Week Ahead Mostly Dry Minor System Moves Through Tuesday
Week Ahead Mostly Dry Minor System Moves Through Tuesday
Showers that moved through last night are now well offshore to the east. Yes we do have another disturbance to the west but this will not get here until Tuesday so we have a nice start to the work week. Skies are mainly going to be partly to mostly sunny today as most of the Great Lakes cloudiness moves southeast rather than east. As for temperatures this afternoon it should be a nice warm day with highs reaching the middle to upper 70s in most places. It might be a little cooler along the shore with local sea breezes developing. It is a solid start to the week ahead which looks to be mostly dry with one short exception.
SATELLITE

WEATHER RADAR

We will begin to see clouds move in tonight with most lows in the upper 40s and lower 50s. Also the wind will be turning to the east and that is going to make a difference Tuesday. Also we have a cold front that will be moving through along with a low that moves southeast from the Great Lakes and then off the New Jersey coast by Tuesday afternoon.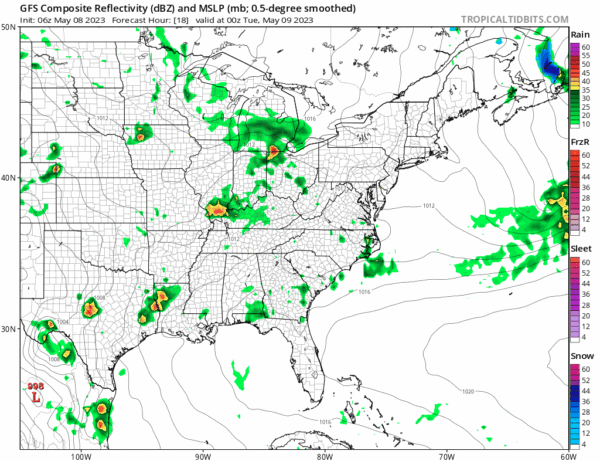 The system is moving through a little faster and that brings in rain or showers in faster. Showers will be moving in by Tuesday morning daybreak from west to east and it should be mostly done from west to east mid to late afternoon. The earlier arrival of clouds rain and an east wind will keep temperatures from getting much above the low to mid 60s.
Once we are done with this system it appears that we are going to done worrying about rain until perhaps next Sunday night or Monday which means that Mother's Day could wind up being a nice weather day. We will talk more about that later this week but in the meantime sunshine is back Wednesday with highs in the 70s.
I really don't see any issues for Thursday Friday and Saturday as all three days should be no worse than partly sunny. Highs Thursday will be in the 70s. Friday and Saturday highs will likely reach into the 80s in most places. Sunday we could see more of a south wind and that will likely take temperatures down to the 70s inland and 60s at the shore but for now the day looks dry. The next low with the chance for showers will arrive Sunday night into Monday.
Please note that with regards to any severe weather,  tropical storms, or hurricanes, should a storm be threatening, please consult your local National Weather Service office or your local government officials about what action you should be taking to protect life and property.