Weather Slowly Improves A Nice Warmer Weekend Ahead
Weather Slowly Improves A Nice Warmer Weekend Ahead
All signs are pointing to improving weather conditions over the next several days but it will be a stair step process. Low pressure is developing offshore southeast of Cape Cod and this represents both the surface and the blocking upper low that has been with us all week. It is finally pulling away to the east however it is in no particular rush to exit. This leaves us in a cold unstable atmosphere for another day so look for clouds mixed with sun and the risk for some scattered showers though they should be fewer in number than yesterday. Highs today will reach the mid 50s to around 60 degrees in the warmest spots.
SATELLITE

WEATHER RADAR

Regional radar is showing some shower activity around though most of it today will be from the offshore low. Some afternoon showers are also going to pop up inland. The atmosphere will stabilize some tonight so skies could partially clear with lows in the 40s coast and 30s inland. Friday we will see temperatures nudge a little higher as we have a little more sun, a little less cloud cover, and only some isolated showers. Highs will be in the upper 50s and lower 60s.
As the block breaks down and shifts eastward, this puts is in a bit of a sweet spot over the weekend and into next week. High pressure will build southward from Eastern Canada and more importantly, it will hold in place through Sunday at least. This is going to keep any weather systems in the west from moving to the Northeast and Mid Atlantic.
hwe will see any mositure forced west and south of the Mid Atlantic and Northeast and that should make for a nice weekend. It also means that with more sunshine, the strong early May sun will do its job and temperatures will head back to normal rather quickly. Saturday we will see sunshine with highs 65 to 70. Sunday we will see sunshine as well and highs should reach the low to middle 70s.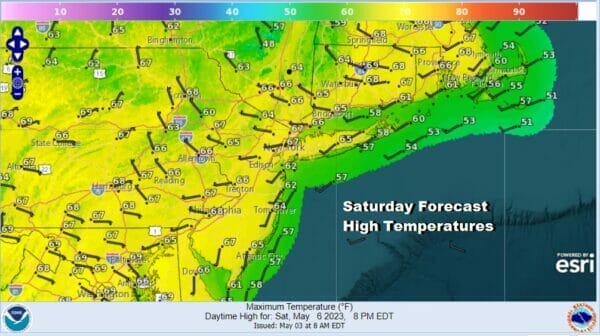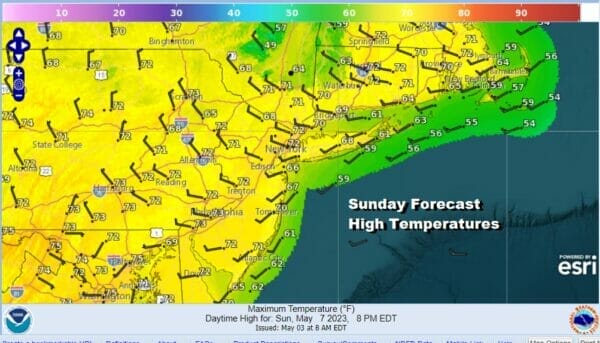 The next weather system likely to break through the high pressure wall in the East will likely be Monday night and Tuesday as low pressures moves east across the Ohio Valley and then across the Northeast. We will look for the Monday night Tuesday timeframe for the next chance for rain or showers.
Please note that with regards to any severe weather,  tropical storms, or hurricanes, should a storm be threatening, please consult your local National Weather Service office or your local government officials about what action you should be taking to protect life and property.