Weather Pattern Change Signs Grow Stronger
The weather pattern change idea seems to be gaining steam and it appears to get underway as we head into January. Still some caution is definitely called for and I'm not ready to shout from the roof tops of imminent pattern change. However if this is the opera, the fat lady can be heard clearing her throat as the curtain is getting ready to be raised.
Both the GFS and the European are on this track and the idea are supported but the ensemble members. The GFS and European come at it a little differently with the European waging war on the polar vortex from a strong ridge in Europe building northwestward to the North pole.
What this means at least from a practical perspective is that temperatures will be trending back toward something resembling seasonal as we get closer 2 and beyond New Years. If this is indeed the beginnings of the pattern flip, it will probably take a couple of weeks to play out. The big question will be whether this is just a temporary window of a week to 10 days (ala February 1983) or is this something different? Is the el nino is at the tipping point where it no longer exerts an unrelenting dominance in the pattern? Is the mean trough going to set up favoring cold and snow in the east or is it going to set up in a different way. These are all among many questions that are going to have to be answered assuming that pattern change looms in the next 2 to 3 weeks. The evidence today certainly boosts the argument that the current pattern is about to run its course.
This is this morning's weather video on the overnight GFS and European model runs.
JOESTRADAMUS ON THE POLAR VORTEX ATTACK
Weather App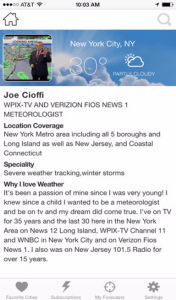 WEATHER APP
Winter is coming. Don't be without Meteorologist Joe Cioffi's weather app. It is a complete weather app to suit your forecast needs. All the weather information you need is right on your phone. Android or I-phone, use it to keep track of all the latest weather information and forecasts. This weather app is also free of advertising so you don't have to worry about security issues with your device. An accurate forecast and no worries that your device is being compromised.
Use it in conjunction with my website and my facebook and twitterand you have complete weather coverage of all the latest weather and the long range outlook.  The website has been redone and upgraded. Its easy to use and everything is archived so you can see how well Joe does or doesn't do when it comes to forecasts and outlooks.
Just click on the google play button or the apple store button on the sidebar for my app which is onMy Weather Concierge. Download the app for free. Subscribe to my forecasts on an ad free environment for just 99 cents a month.
Get my forecasts in the palm of your hand for less than the cost of a cup of Joe!