DOWNLOAD MY NEW FREE JOESTRADAMUS WEATHER APP FOR ANDROID

THE APP IS ABSOLUTELY FREE TO ALL BUT CONSIDERING SUBSCRIBING TO PATREON FOR A WEATHER EXPERIENCE FREE OF ADS, EXCLUSIVE VIDEOS FOR MEMBERS ONLY AND MUCH MORE…STARTS AT $2 A MONTH..MESSAGE ME AT ANY TIME
Weather Pattern Change Grinds On Very Slowly
The split of the polar vortex in the stratosphere (where planes fly) is complete. In the past it would seem that split in the atmosphere was elusive. Weather models would forecast splits that just didn't happen. This one was well telegraphed and has now happened. Models are fairly consistent with that polar vortex settling over North America. Now we sit back and very patiently watch the wheels grind slowly and noisily to whatever the conclusion of this will be. It is a 10 day to 2 week process and we can only watch models evolve going forward and see where this all takes us.
WARNING: THE PATTERN CHANGE YOU WANT & THE ONE YOU GET ARE NOT ALWAYS THE SAME!
There seems to be this automatic assumption out there among snow weenies and others with pre set agendas that this is automatic slam dunk. WRONG! WRONG! WRONG! The change in the broadest measure of a weather pattern is fine and dandy but as we have learned so often (and apparently have to re-learn) that there are many puzzle pieces in the forecast game. The broad pattern might favor certain events to transpire but it doesn't guarantee the highs and lows will be in the right place, nor does it guarantee that a change to a colder pattern will come with a change to a snowier pattern. The colder part of the pattern seems to be an easier goal here in the broad sense. The storminess issue is entirely another matter. There is nothing that says it can't be cold and dry with bad storm tracks and cold fronts where it warms up ahead of the next cold shot and warms up and rains, only to turn cold and dry afterwards.
PACIFIC "FIRE HOSE" JET HAS GOT TO BREAK DOWN
Since the middle of December we have seen the pattern across the United States dominated by the Pacific jet stream which is basically like one long fire hose of warm moist air that roars across the Pacific and overwhelms the US with warm air and weather systems that move across have absolutely no cold air to work with. Weather models show signs of this breaking down in the long range but this break down is very important. If it doesn't happen you can look for warm pacific air to continue to overwhelm.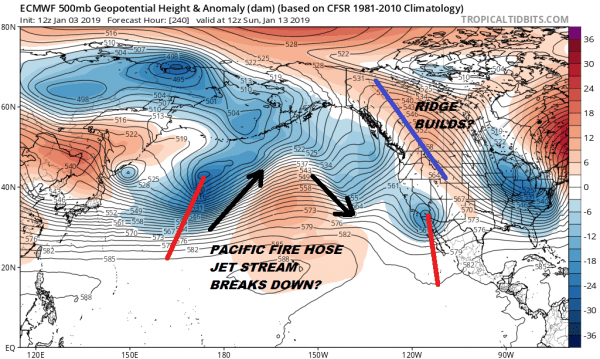 Then there is the Atlantic side where it gets even trickier. Higher than normal pressures would drive the North Atlantic Oscillation negative which is usually good for colder weather in the east and under certain conditions it could drive storm tracks into either favorable or unfavorable tracks for snow. Where is this going to wind up.
A trough in the Eastern US is required but the "east" is a big place. Is it near the coast? Is it back in the Ohio Valley? Is it axised near Chicago? It makes a huge difference in the day to day weather. One is cold and dry, one is cold and snowy (or rainy) and one is cold to warm to cold again with some rain (or snow to rain) in between.
WHAT ABOUT COLD AIR?
At least that part seems a bit easier to get into. Climate models seem to be now responding to the changes going on in the stratosphere. The CFS climate model for example seems to have finally shifted in this direction over the last few days showing a trend to colder than average temperatures developing in the second half of the month. This model does however have a rather poor track record flipping back and forth and seems to lag the others when it comes to pointing to pattern change. For now it seems to have gotten on the same page. For now we sit back and continue to watch the evolution of the long range as the short range continues to be mild and rainy from time to time with quick transient shots of colder air that bring temperatures back to average for a day or two at most.
MANY THANKS TO

TROPICAL TIDBITS

FOR THE USE OF MAPS
Please note that with regards to any tropical storms or hurricanes, should a storm be threatening, please consult your local National Weather Service office or your local government officials about what action you should be taking to protect life and property.