Weather Pattern Change Arrives Next Week
Weather Pattern Change Arrives Next Week
Over the last 4 or 5 days we have seen weather models indicating a change in the upper air pattern coming for the last week of October. We decided to wait a bit before jumping on to the band wagon just to make sure that this was indeed the case. Today's model runs have now brought it close enough that the confidence level is high. For the last 5 weeks we have been in a ridge in the east trough in the west scheme across North America and it is about to reverse after this week. The ridge in the east will pop up one more time this week keeping things very dry. The cool shot we are seeing today into Wednesday will give way to a warm up and it will be dry for the rest of this week and likely through this weekend. After next weekend everything changes.
GFS WEATHER PATTERN CHANGE SATURDAY OCTOBER 21 UPPER AIR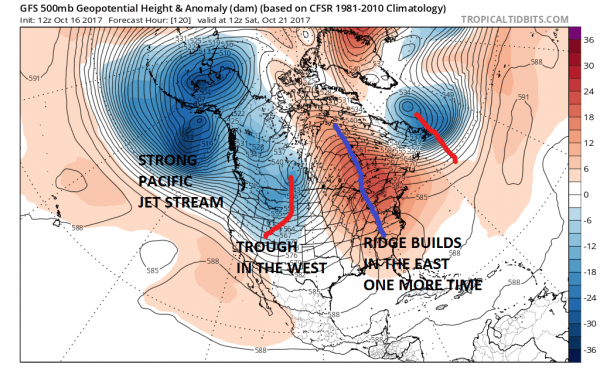 Saturday's jet stream map above shows the ridge in the East in place with the trough in the west and the strong Pacific Jet stream crashing into the west coast. From here things begin to radically change. The big upper low over Alaska shifts westward weakening the Pacific Jet stream. A ridge begins to build in the west with a corresponding deep trough swinging through the Eastern US. This will open up the spigots of colder air to begin to move southward into the United States.
The change to the colder pattern should come with an opportunity for some much needed rain next Tuesday though the details are yet to be worked out. Once this change is complete the question then becomes whether it holds or not for any important length of time. It seems there could be room for another big trough toward the end of the month and perhaps this one might bring the first snows to the areas in the upper Midwest and the interior Northeast
Of course warm ups in between troughs are likely but they will be short lived. At least the pattern switches to something that produces more variability after this week. Whether it continues as we head into November remains to be seen.
MANY THANKS TO TROPICAL TIDBITS FOR THE WONDERFUL USE OF THE MAPS
GET JOE A CIGAR IF YOU LIKE!
FiOS1 News Weather Forecast For Long Island
FiOS1 News Weather Forecast For New Jersey
FiOS1 News Weather Forecast For Hudson Valley
NATIONAL WEATHER SERVICE SNOW FORECASTS
LATEST JOESTRADAMUS ON THE LONG RANGE
Weather App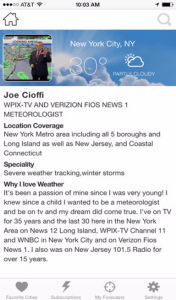 Don't be without Meteorologist Joe Cioffi's weather app. It is really a meteorologist app because you get my forecasts and my analysis and not some automated computer generated forecast based on the GFS model. This is why your app forecast changes every 6 hours. It is model driven with no human input at all. It gives you an icon, a temperature and no insight whatsoever.
It is a complete weather app to suit your forecast needs. All the weather information you need is right on your phone. Android or I-phone, use it to keep track of all the latest weather information and forecasts. This weather app is also free of advertising so you don't have to worry about security issues with your device. An accurate forecast and no worries that your device is being compromised.
Use it in conjunction with my website and my facebook and twitter and you have complete weather coverage of all the latest weather and the long range outlook. The website has been redone and upgraded. Its easy to use and everything is archived so you can see how well Joe does or doesn't do when it comes to forecasts and outlooks.
Just click on the google play button or the apple store button on the sidebar for my app which is on My Weather Concierge. Download the app for free. Subscribe to my forecasts on an ad free environment for just 99 cents a month.
Get my forecasts in the palm of your hand for less than the cost of a cup of Joe!