Today is the 8th day in a row of no rain and if you think back to a couple of weeks ago I ran a few weather outlook pieces indicating that it might not rain for 16 days straight and the way things are going we are certainly going to get to 12 which would take us out to Friday and possibly beyond that. Judging from the way the long term pattern is setting up, I see nothing in the weather outlook of consequence through the first week of October! But let's not jump that far ahead and focus instead on this week which is all about onshore flow beginning today and lasting through Friday.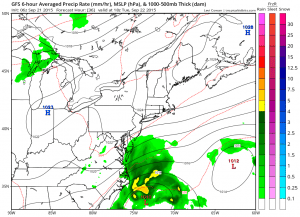 The only real issue I believe for Southeast New York, New Jersey, and Connecticut will be clouds and for how long. The first push of clouds begins later today from the east and works its way back westward. Rain from the onshore flow and low pressure to the south will stay to the south. After Tuesday evening the clouds move out and Wedneday and Thursday look good with sunshine both days. Friday brings with it another situation with a strengthening onshore flow and low pressure to the south. This time rain could get a little further north but in the end there really is no upper support to bring this up our way. The strengthening ridge in the east is just way to overpowering to allow this to come too far north. That's not say i couldn't at the last minute but as of now it is a definite play against.
The day to day forecast therefore is pretty straight forward. Sunshine with late clouds today, clouds tonight and Tuesday..some sunshine western and northern areas…back to sunshine Wednsday into Thursday and back to clouds late Thursday into Friday. Temperatures all week should be in the 70s ranging from the low end when we have cloud cover to mid to upper on the other side. Nights in the 40s and 50s. Marine conditions are not going to be very good this week at all with very rough ocean seas so be sure to check the marine forecast page for the latest there.
Be sure to download my weather app and subscribe to my forecasts. The app is free and my forecasts are just 99 cents a month, no advertising and no security or tracking issues!