It appears as if the warm weather pattern setting up in the east is going to be with us for awhile. Looking at the upper air maps for the next few days, the ridge in the west extends its arm into the eastern states and though it is stronger in the west that it is in the east it is enough to push the westerlies well to the north of the border.

The problem here is that trough in the east is very weak and we do not have any strong shortwaves in the flow to really dig down and bring in genuine cool air. There is a short wave trough approaching on Saturday but not that it is very weak and very hard to define.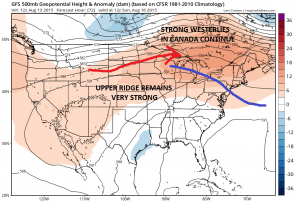 By Sunday morning you can barely find it on the upper air map and therefore the only thing we are going to get out of it is a stray isolated thunderstorm in a few spots Saturday evening. Because the ridge is so strong the front just simply falls apart and disappates. The air mass behind is as warm if not warmer then the one ahead of it.
So the outcome from all this is that we will probably see temperatures averaging in the upper 80s to lower 90s beginning Saturday and lasting into Tuesday. Saturday evening is the only shot we have for thunderstorms until next Tuesday which will probably be the hottest day of the stretch. Temperatures likely to reach the middle 90s in some areas before there is a chance for late day thunderstorms.
At least with regards to the weekend, the weather looks good for outdoor activities. Just keep an eye to the sky Saturday evening just in case a thunderstorm decides that you are going to be the target and spare everyone else. With regards to humidity, Friday still looks reasonable. It will turn more humid Saturday..perhaps a touch less humid Sunday and then more humid again Monday and Tuesday.