Weather Models Showing Blocking Next Week
Weather Models Showing Blocking Next Week
Looking ahead to next week weather models for the last number of days have been indicating a strong blocking pattern developing across the North Atlantic. This has implications longer term for the first part of May. A blocking signature anytime of year can mean a cold wet stormy period of weather and the middle of spring is no exception to this. With all the weather models going the blocking route it is a call to pay attention.
WEATHER MODELS SHOW BLOCKING EUROPEAN & GFS FORECAST THURSDAY MAY 4TH
These maps are for one week from today and both weather models (GFS & EUROPEAN) are virtually identical. The big high builds over Greenland and forces a strong Atlantic jet stream along and north of 40 degrees north. To the west a deep trough dives southward into the Mississippi Valley while a strong ridge cuts off the Pacific jet stream and builds into Northwest Canada.
WEATHER MODELS SHOW STORM MOVING UP WEST SIDE OF APPALACHIANS
CLICK TO ANIMATE
Everything is set in motion on Monday as a cold front moves through at night with some showers and thunderstorms. Tuesday and Wednesday dry air and high pressure builds in as all the energy piles to the west. Models then swing the trough east and northeast bringing a shot for a solid soaking rain event later Thursday into Friday of next week. The other implication from the blocking is that the jet stream will be displaced south of normal for awhile and the longer range temperature profile shows a period of below average temperatures for much of the first half of May.
AVERAGE TEMPERATURES MAY 4-11
This does not mean that we can't have the odd warm day here and there. It does suggest that the average temperatures through the period will be cooler the normal. Blocks can be unstable and models can have a difficult time either building them or breaking them down. Sometimes the process can take longer on both ends.
Notice that the teleconnections forecast show the North Atlantic Oscillation or NAO is forecast to go off the wall negative after May 1st so this idea is supported by weather models across the board.
MANY THANKS TO TROPICAL TIDBITS FOR THE WONDERFUL USE OF THE MAPS
GET JOE A CIGAR IF YOU LIKE!
LANDSCAPE COMPANIES FOR YOUR SPRING SUMMER FALL NEEDS
             LONG ISLAND                                ROCKLAND COUNTY                   Connecticut
     ROCKLAND COUNTY                         TRI STATE SNOW REMOVAL                           JOHNSTOWN PA
FiOS1 News Weather Forecast For Long Island
FiOS1 News Weather Forecast For New Jersey
FiOS1 News Weather Forecast For Hudson Valley
NATIONAL WEATHER SERVICE SNOW FORECASTS
LATEST JOESTRADAMUS ON THE LONG RANGE
Weather App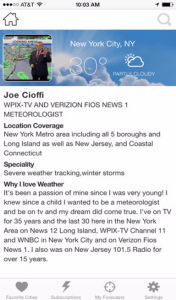 Don't be without Meteorologist Joe Cioffi's weather app. It is really a meteorologist app because you get my forecasts and my analysis and not some automated computer generated forecast based on the GFS model. This is why your app forecast changes every 6 hours. It is model driven with no human input at all. It gives you an icon, a temperature and no insight whatsoever.
It is a complete weather app to suit your forecast needs. All the weather information you need is right on your phone. Android or I-phone, use it to keep track of all the latest weather information and forecasts. This weather app is also free of advertising so you don't have to worry about security issues with your device. An accurate forecast and no worries that your device is being compromised.
Use it in conjunction with my website and my facebook and twitter and you have complete weather coverage of all the latest weather and the long range outlook. The website has been redone and upgraded. Its easy to use and everything is archived so you can see how well Joe does or doesn't do when it comes to forecasts and outlooks.
Just click on the google play button or the apple store button on the sidebar for my app which is on My Weather Concierge. Download the app for free. Subscribe to my forecasts on an ad free environment for just 99 cents a month.
Get my forecasts in the palm of your hand for less than the cost of a cup of Joe!