Weather Models Shifting Jets & Tropical Storms
Weather Models Shifting Jets & Tropical Storms
Global Models Splitting Jet Along East Coast
Complicates Weekend Outlook
One of the practical dangers of forecasting is making unequivocal statements days and days in advance in any direction. There are always things that models don't see that suddenly become important as you enter the short range. We see this all the time in the winter and we also see them in the late summer and fall. This is especially true when it comes to tropical systems.
Several of the global weather models have been hinting at this for the last few days. This morning my weather video pointed this out as the GFS has been doing this for several runs in a row. We pointed out that it seemed like it was an outlying solution and one that frankly did not make much sense. The Canadian model joined the GFS this morning on this idea and the European now also has picked up on this.
Weather Models Shifting Jets & Tropical Storms
European Model Saturday Morning
Weather Models Shifting Jets & Tropical Storms
GFS Model Saturday Morning
The European model and GFS model are very similar here with the main difference being that the GFS has the upper lower fracturing and "cutting off" further southwest than the European Model. But the idea of the fracturing is key here as models seem to be coming around to this idea. The implication is that a tropical storm would ride northeast up the coast, offshore, and then hook back northwest or westward as it reaches our latitude.
Weather Models Shifting Jets & Tropical Storms
Euro Model Sunday Morning
Weather Models Shifting Jets & Tropical Storms
GFS Model Tuesday Morning
Above are the European model maps for Sunday and Tuesday morning. It takes what appears to be a minimal hurricane out to the northeast and then hooks it back west northwestward in response to the developing "cut off" low. The GFS is not much different except that it is further west.
So what are the implications of all these developments. First off, we are waiting to see whether this tropical depression which feels like it has been around forever, develop into a tropical storm. It appears to be organizing late this afternoon on the satellite loop below and we will wait for the verdict from the National Hurricane Center shortly.
Second of all, regardless of whether the models are correct with this idea, we will see rough surf conditions continue probably through the weekend or until all these tropical systems get out of the way.
Third is that there may be more model noise to contend with over the next few days that could change all this. The global model solutions are a bit bizzare and are not consistent with the hurricane models. Those models have a much more straight forward track.
We do wish to point out that there is a little more variation with this 12z series of the hurricane models than the prior runs. It could be that the global models may be on to something. We will continue to watch weather models as they play out.
If you have not seen it yet here is my weather video on the tropics from this morning.
FiOS1 News Weather Forecast For Long Island
FiOS1 News Weather Forecast For New Jersey
FiOS1 News Weather Forecast For Hudson Valley
LATEST JOESTRADAMUS ON THE LONG RANGE
Weather App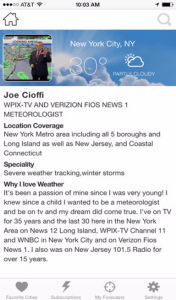 Don't be without Meteorologist Joe Cioffi's weather app. It is really a meteorologist app because you get my forecasts and my analysis and not some automated computer generated forecast based on the GFS model. This is why your app forecast changes every 6 hours. It is model driven with no human input at all. It gives you an icon, a temperature and no insight whatsoever.
It is a complete weather app to suit your forecast needs. All the weather information you need is right on your phone. Android or I-phone, use it to keep track of all the latest weather information and forecasts. This weather app is also free of advertising so you don't have to worry about security issues with your device. An accurate forecast and no worries that your device is being compromised.
Use it in conjunction with my website and my facebook and twitter and you have complete weather coverage of all the latest weather and the long range outlook. The website has been redone and upgraded. Its easy to use and everything is archived so you can see how well Joe does or doesn't do when it comes to forecasts and outlooks.
Just click on the google play button or the apple store button on the sidebar for my app which is on My Weather Concierge. Download the app for free. Subscribe to my forecasts on an ad free environment for just 99 cents a month.
Get my forecasts in the palm of your hand for less than the cost of a cup of Joe!