Weather Models Reverse Long Range
Weather Models Reverse Long Range
The emotional levels rose to hysteria today across weather boards on Facebook Twitter & elsewhere due to the GFS model showing a pattern change with the trough shifting westward. This of course led to mass bridge jumping appointments being made by winter weather and snow lovers who apparently live and die by each model run and seeing only the obvious.
GFS MODEL ATE THIS AFTERNOON CHRISTMAS EVE
The map above is the GFS model upper air forecast for Christmas Day from Tuesday morning's model run. It should a deep trough setting up in the west with a big southeast ridge. Of course this led to proclamations that the winter was over (ridiculous). The model began this idea yesterday and what makes me suspicious about this is the fact that about 4 weeks ago the models did something similar cutting off a low in the southwest which pumps up the ridge in the east. This just seemed wrong to me 4 weeks ago and it seems wrong to me again. The new GFS run has a bit of a different take on all this.
NEW GFS MODEL RUN UPPER AIR CHRISTMAS EVE
There are significant differences in how the model handles the vortex in Eastern Canada showing a much stronger presence there as is the trough in the west which is far less deep on the southern flank. The Pacific ridge is just as strong on both runs but is a bit further east. All these differences keep the Southeast ridge flatter. This creates a much colder look in the Eastern US. It also sets the stage for some overrunning events down the road in the southwest flow with cold air nearby. Granted that models will change some more in the coming days but if that trough doesn't cut off in the Southwest you can't get the ridge to fly northward in the East. Also the models may have been way overzealous in breaking the Canadian vortex down and shifting it to the west. I suspect that the vortex in Canada is going to be a bigger player here over time. Could I be wrong about this? Sure I could. But there is support from teleconnections that tonight's solution has a better chance of happening than yesterday's debacle. So for at least one run of the GFS the winter weenies can perhaps take a few steps back from the edge of the cliff and stick around for a few more days and see what happens. Oh and btw when you pull out the JMA long range model for support you are really grasping at straws.
MANY THANKS TO TROPICAL TIDBITS FOR THE WONDERFUL USE OF THE MAPS
GET JOE A CIGAR IF YOU LIKE!
FiOS1 News Weather Forecast For Long Island
FiOS1 News Weather Forecast For New Jersey
FiOS1 News Weather Forecast For Hudson Valley
NATIONAL WEATHER SERVICE SNOW FORECASTS
LATEST JOESTRADAMUS ON THE LONG RANGE
Weather App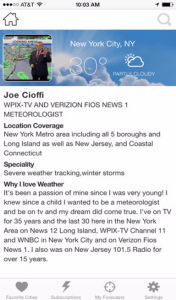 Don't be without Meteorologist Joe Cioffi's weather app. It is really a meteorologist app because you get my forecasts and my analysis and not some automated computer generated forecast based on the GFS model. This is why your app forecast changes every 6 hours. It is model driven with no human input at all. It gives you an icon, a temperature and no insight whatsoever.
It is a complete weather app to suit your forecast needs. All the weather information you need is right on your phone. Android or I-phone, use it to keep track of all the latest weather information and forecasts. This weather app is also free of advertising so you don't have to worry about security issues with your device. An accurate forecast and no worries that your device is being compromised.
Use it in conjunction with my website and my facebook and twitter and you have complete weather coverage of all the latest weather and the long range outlook. The website has been redone and upgraded. Its easy to use and everything is archived so you can see how well Joe does or doesn't do when it comes to forecasts and outlooks.
Just click on the google play button or the apple store button on the sidebar for my app which is on My Weather Concierge. Download the app for free. Subscribe to my forecasts on an ad free environment for just 99 cents a month.
Get my forecasts in the palm of your hand for less than the cost of a cup of Joe!