Weather Models Remain On Pattern Change Course
WEATHER MODELS LONG RANGE WEATHER VIDEO
Weather Models Remain On Pattern Change Course
There are a couple of things off the bat that we need to bear in mind. First off the day to day process of watching models is grueling and frustrating since there is a tendency in the weather world for people to want instant gratification and that is just not going to happen. Models are going to vary somewhat from run to run and this is just a given We need to keep the focus on the fact that change is occurring and the fact is we really won't know what the end result will be until we get there. Secondly is the fact that one part of the pattern that has changed is that it is more active. Storms from the Pacific jet are marching across the US and at least it is bringing us threats for precipitation on a more frequent basis. The question is whether that part of the change holds if and when the colder part of the pattern kicks in. Finally and most importantly, the pattern change you get may not be the pattern change you want. There is nothing that says it can't be cold and dry, or cold until the storms get here and then it warms up and rains..or anyone of a bunch of other combinations including storms going south, east, west, and north.
WEATHER MODELS LONG TERM INDICES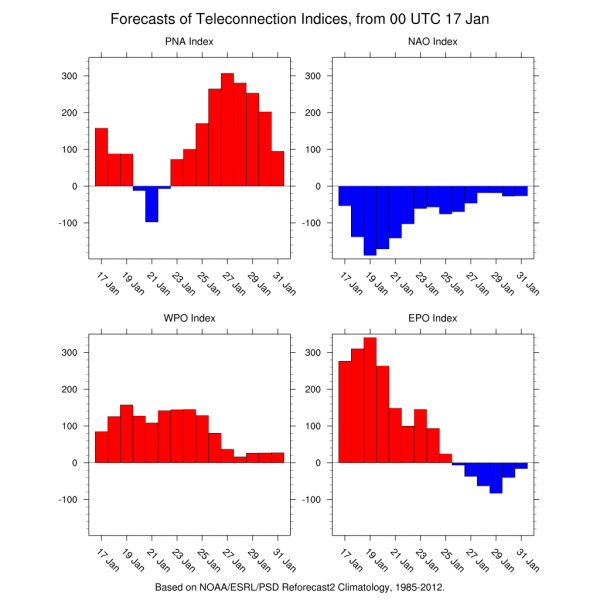 All of the indices today are going in a colder and stormier direction for late month. The NAO or North Atlantic Oscillation is forecast to be negative until further notice. The East Pacific Oscillation goes to negative late month which favors colder, and the Pacific North America index goes positive and stays there which builds a ridge in the west. This could be an indicator of an active stormy pattern. Of course this changes as models change but the trend continues colder albeit in a sawtooth fashion.
WEATHER MODELS GFS TEMPERATURE ANOMALIES
While the upper air pattern turns colder after day 10, the bottom of the atmosphere may need a few extra days to catch up. The reason why is that the air in Canada is simply not all that cold so that the initial push that arrives after Day 10 will probably still be milder than average. Cold air needs to build in Canada which it finally does do between days 10-16. The upper air changes first and the cold air will follow a few days later.
WEATHER MODELS GFS DAY 13-16 UPPER AIR
Today's GFS gravitates to a very cold look at the end of the period. The ridge in the west builds off the wall and we have a deep polar flow from Northern Canada to the Midwest and East. If this look holds it would signal a cold pattern that might hold for awhile That will of course be dependent on the ridges on the Pacific and Atlantic side and whether they hold together.
WEATHER MODELS GFS MODEL DAY 16
Winter weather lovers can only hope that this is correct. Actually to me it is somewhat like how the upper air set up at the end of January 2014 and 2015 though nothing is exactly the same. And of course the next run will probably look a bit different from this. I think the best way to look at this is that we know change is coming but what it will finally look like is still anyone's guess. Today's runs however continue to point in a bullish direction.
MANY THANKS TO TROPICAL TIDBITS FOR THE WONDERFUL USE OF THE MAPS
SNOW REMOVAL COMPANIES FOR YOUR WINTER NEEDS
             LONG ISLAND                                ROCKLAND COUNTY                   Connecticut
     ROCKLAND COUNTY                         TRI STATE SNOW REMOVAL                           JOHNSTOWN PA
FiOS1 News Weather Forecast For Long Island
FiOS1 News Weather Forecast For New Jersey
FiOS1 News Weather Forecast For Hudson Valley
NATIONAL WEATHER SERVICE SNOW FORECASTS
LATEST JOESTRADAMUS ON THE LONG RANGE
Weather App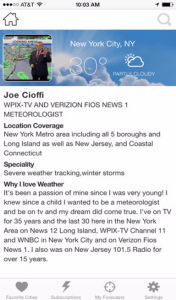 Don't be without Meteorologist Joe Cioffi's weather app. It is really a meteorologist app because you get my forecasts and my analysis and not some automated computer generated forecast based on the GFS model. This is why your app forecast changes every 6 hours. It is model driven with no human input at all. It gives you an icon, a temperature and no insight whatsoever.
It is a complete weather app to suit your forecast needs. All the weather information you need is right on your phone. Android or I-phone, use it to keep track of all the latest weather information and forecasts. This weather app is also free of advertising so you don't have to worry about security issues with your device. An accurate forecast and no worries that your device is being compromised.
Use it in conjunction with my website and my facebook and twitter and you have complete weather coverage of all the latest weather and the long range outlook. The website has been redone and upgraded. Its easy to use and everything is archived so you can see how well Joe does or doesn't do when it comes to forecasts and outlooks.
Just click on the google play button or the apple store button on the sidebar for my app which is on My Weather Concierge. Download the app for free. Subscribe to my forecasts on an ad free environment for just 99 cents a month.
Get my forecasts in the palm of your hand for less than the cost of a cup of Joe!