DOWNLOAD MY NEW FREE JOESTRADAMUS WEATHER APP FOR ALL DEVICES
THE APP IS ABSOLUTELY FREE TO ALL BUT CONSIDERING SUBSCRIBING TO PATREON FOR A WEATHER EXPERIENCE FREE OF ADS, EXCLUSIVE VIDEOS FOR MEMBERS ONLY AND MUCH MORE…STARTS AT $2 A MONTH..MESSAGE ME AT ANY TIME
EUROPEAN MODEL ON THE LIST OF POSSIBILITIES FOR NEXT WEEK
With all the skepticism surrounding the European model from last night, today's run actually was consistent from last night's idea that this system will be further south and colder. In fact Today's run is just that…further south and colder (snowier) however the important thing here is not the trend as the structure of the upper features which are driving this for next week.
The map above shows the jet stream undercutting the ridge. The European energy to the east is deeper than the upper low that is back over Northern Minnesota. The European ridge along the East Coast is some 90 meters weaker than the GFS or the amped Canadian.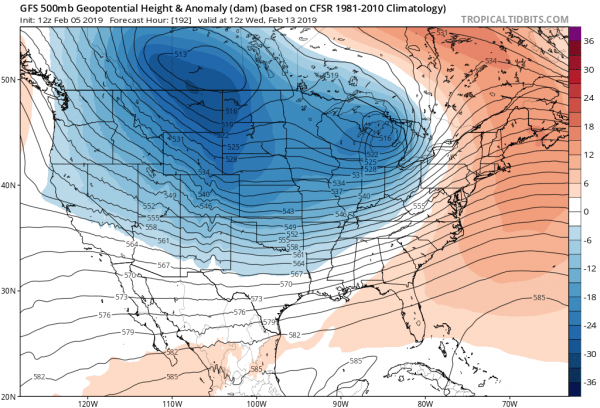 The stronger Atlantic ridge on the GFS deflects everything to the left and that is roughly the primary difference in how the models handle this. So we need to look for clues on that Atlantic ridge going forward and if there is anything going on out there that makes that high stronger. Weaker is colder for the Northeast and gets you the European solution.
We have been talking about the screaming jet in the Atlantic and how it has kept weather systems from moving up the East Coast. This is the major model change here that needs our close attention. Finally we have something out there to slow systems down and deflect them westward. The problem is the GFS with a strong upper low solution south of Greenland and East of New Foundland. The European handles this differently with a much less amplified upper low.
The Atlantic ridge and the upper low in the Atlantic to me hold the key to all this. The west coast trough remains loaded with energy and pieces so I'm confident that those pieces will come into play regardless. The area to watch closely is the Atlantic side of this equation.
MANY THANKS TO

TROPICAL TIDBITS

FOR THE USE OF MAPS
Please note that with regards to any tropical storms or hurricanes, should a storm be threatening, please consult your local National Weather Service office or your local government officials about what action you should be taking to protect life and property.