Weather Models European GFS Long Range
Weather Models European GFS Long Range
Active Wet Pattern Continues
We have been watching weather models and this grueling pattern change process continue for 2 weeks now. We have seen 2 important changes. The first being that the pattern has become much more active. We are beginning to see weather systems moving through the east with more frequency. We have also seen the temperatures trend down closer to average for this time of year. It seems that what is happening is that the upper atmosphere is doing a slow grind southward as far as colder air is concerned. As each moves along it seems to be pulling the jet stream further south. There is still a lot more work to do. We also need to remember that the average highs this time of year (end of November early December) are still in the upper 40s and lows in the lower 30s. We need to see where we are a month from now when average highs and lows drop another 10 degrees.
With regards to temperatures one of the bigger changes that is occuring is that Canada is finally cooling down especially in the Western half. Both the Canadian and GFS model show this out through day 10. This is a change from the pattern we saw in October and for the first half of November when all of Canada was in a blow torch. With regards to weather systems moving along the European seems to be gearing up for another system to come out of the west.
There are 2 major differences developing this afternoon between the GFS model and the European Model regarding this system coming out from the west
 MAJOR DIFFERENCES IN WEATHER MODELS THIS WEEKEND

This creates two absolutely different outcomes on the surface maps for both models. The GFS model has nothing but high pressure everywhere while the European has a developing low in the Gulf States and a cold high beginning to press into the northeast. Weather model differences are as wide as they can be!
The outcome from here could not be further apart going forward. The European develops a major snowstorm for the Great Lakes and western parts of the Ohio Valley while the GFS has nothing!
WEATHER MODELS DIFFERENCES GROW EVEN WIDER
The results for us would be another huge soaking rain event for early next week with maybe some frozen or freezing  precipitation at the start especially away from the coast (guessing here). In the meantime the Great Lakes south to Illinois and Indiana get hit with heavy snow!
So where do we go with all this? No where for the time being. Obviously the biggest model question is the system in the west. Does it get left behind like the GFS which means basically nothing happens of consequence over the weekend or does it bodily come out in one piece like the European and it creates a major storm. The European today is not that different from yesterday except that it is perhaps a little further southeast with everything on the whole it is pretty consistent. We should also again remind everyone that the European model has been notorious for making intense lows lately that have not happened. Another system comes out of the west later next week behind this one and that lines up with the GFS model. At least for this rain event Tuesday and Wednesday, the models are all pretty similar though the European seems to want to keep rain going a bit longer into Thursday morning. No doubt we have an active pattern ahead. The pattern would also imply that we will get shots of cold air with each system as it goes by and warm up ahead of the next one as the overall storm track remains a bit too far to the north at this point. This may correct itself over time as we get deeper into December. For snow lovers I would point out that lack of snowfall this time of year is pretty much standard in most winters, even in the snowiest ones. We are still very very early.
MANY THANKS TO TROPICAL TIDBITS FOR THE WONDERFUL USE OF THE MAPS
           SNOW REMOVAL COMPANIES FOR YOUR WINTER NEEDS
             LONG ISLAND                                ROCKLAND COUNTY                   Connecticut

WINTER 2016-2017 PART 1 OCEAN WATER TEMPERATURES
WINTER 2016-2017 PART 2 ARCTIC SEA ICE AND SIBERIAN SNOW COVER
FiOS1 News Weather Forecast For Long Island
FiOS1 News Weather Forecast For New Jersey
FiOS1 News Weather Forecast For Hudson Valley
NATIONAL WEATHER SERVICE SNOW FORECASTS
LATEST JOESTRADAMUS ON THE LONG RANGE
Weather App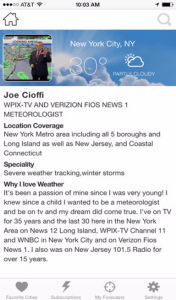 Don't be without Meteorologist Joe Cioffi's weather app. It is really a meteorologist app because you get my forecasts and my analysis and not some automated computer generated forecast based on the GFS model. This is why your app forecast changes every 6 hours. It is model driven with no human input at all. It gives you an icon, a temperature and no insight whatsoever.
It is a complete weather app to suit your forecast needs. All the weather information you need is right on your phone. Android or I-phone, use it to keep track of all the latest weather information and forecasts. This weather app is also free of advertising so you don't have to worry about security issues with your device. An accurate forecast and no worries that your device is being compromised.
Use it in conjunction with my website and my facebook and twitter and you have complete weather coverage of all the latest weather and the long range outlook. The website has been redone and upgraded. Its easy to use and everything is archived so you can see how well Joe does or doesn't do when it comes to forecasts and outlooks.
Just click on the google play button or the apple store button on the sidebar for my app which is on My Weather Concierge. Download the app for free. Subscribe to my forecasts on an ad free environment for just 99 cents a month.
Get my forecasts in the palm of your hand for less than the cost of a cup of Joe!