Weather Models Continue Colder Trend Long Range
Weather Models Continue Colder Trend Long Range
We continue to see weather models trending colder over the last several days. Weather models have been led by the European weather model which has been the coldest of all the global weather models. Earlier today the European developed a strong ridge building over the Gulf of Alaska while ridging builds in the Western Atlantic along 55 West which essentially traps 2 separate polar vortexes in Canada. The lead one plunges southward into James Bay and intensifies which brings in the first shot of cold air late next week.
The new overnight GFS model is similar however there are some important differences. First off the trough in the east is stretched north south and would imply a cold front with a wave developing on it. It does have building ridges on both coasts like the European and the important factor going forward in terms of the long range will be with those ridges build across the top at the pole. If this happens it would effectively lock in the polar vortex in Canada which means a much less transient pattern. Indeed the new GFS model suggests that the ridges do indeed build across the pole and we suddenly have a very cold looking pattern going forward.
The dayside European built the ridge across the Arctic and it is pretty evident at the end of the forecast period.  The new GFS model then pulls part of the vortex out as a new vortex takes its place. Now let me a few things clear. All cold air masses are essentially transient. They all have to pull out to some degree. The question going forward will be whether there is enough blocking. Judging by what we have seen so far, it would seem that odds would favor cold air masses pulling out to some degree. Also we don't know exactly how cold it will get. Those are short range forecast problems rather than long range. Also with regards to snow threats, I would say the same thing. The fact that the GFS model is not especially bullish on snow threats is to me a non factor. Consider how many snow threats the GFS model showed in the long range. I would say at least a dozen. Guess what? None came to be. The 5 nickle and dime snows we have seen including last Saturday's 3 to 6 inch snowfall didn't seriously materialize until we were well inside the 7 day time frame. Therefore I would suggest that we all keep open minds on how this all ultimately plays out. I certainly will be waiting to see what tonight's European model shows before even to begin to come to any conclusions regarding all of this. This process has a long way to go.
MANY THANKS TO TROPICAL TIDBITS FOR THE WONDERFUL USE OF THE MAPS
           SNOW REMOVAL COMPANIES FOR YOUR WINTER NEEDS
             LONG ISLAND                                ROCKLAND COUNTY                   Connecticut

JOHNSTOWN PA 
COLOSIMO LAWNCARE
FiOS1 News Weather Forecast For Long Island
FiOS1 News Weather Forecast For New Jersey
FiOS1 News Weather Forecast For Hudson Valley
NATIONAL WEATHER SERVICE SNOW FORECASTS
LATEST JOESTRADAMUS ON THE LONG RANGE
Weather App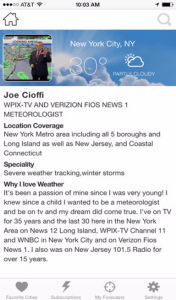 Don't be without Meteorologist Joe Cioffi's weather app. It is really a meteorologist app because you get my forecasts and my analysis and not some automated computer generated forecast based on the GFS model. This is why your app forecast changes every 6 hours. It is model driven with no human input at all. It gives you an icon, a temperature and no insight whatsoever.
It is a complete weather app to suit your forecast needs. All the weather information you need is right on your phone. Android or I-phone, use it to keep track of all the latest weather information and forecasts. This weather app is also free of advertising so you don't have to worry about security issues with your device. An accurate forecast and no worries that your device is being compromised.
Use it in conjunction with my website and my facebook and twitter and you have complete weather coverage of all the latest weather and the long range outlook. The website has been redone and upgraded. Its easy to use and everything is archived so you can see how well Joe does or doesn't do when it comes to forecasts and outlooks.
Just click on the google play button or the apple store button on the sidebar for my app which is on My Weather Concierge. Download the app for free. Subscribe to my forecasts on an ad free environment for just 99 cents a month.
Get my forecasts in the palm of your hand for less than the cost of a cup of Joe!