Weather Models Cold Active Long Range
Weather Models Cold Active Long Range
Today's weather models have come closer together on the arrival of cold air beginning on Wednesday as a cold front passes. Once that front goes by both the GFS & European model show the front slowing down an stalling out. The GFS was the first to show this idea a few days ago before abandoning it and then coming back westward. First though is the cold front that approaches Tuesday night and Wednesday morning.
GFS MODEL TUESDAY NIGHT INTO THURSDAY CLICK TO ANIMATE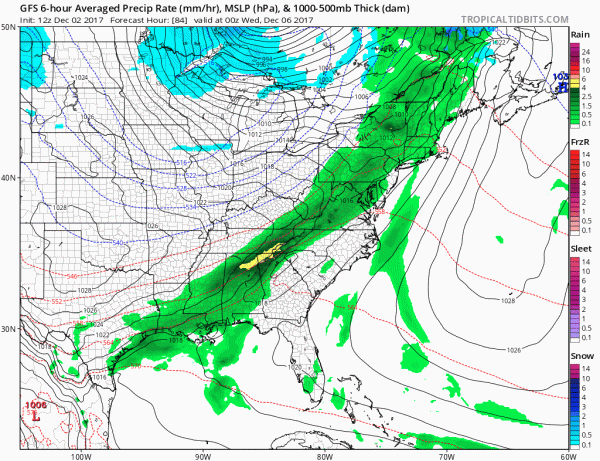 Both the European and the GFS are on point with this front. There is a chance that for areas west and north of the coast that the rain could end as some sleet or wet snow Wednesday morning. After that it gets complicated a bit. While the front sits to our south a wave develops along the front and moves northeastward Thursday night and Friday.
WEATHER MODELS GFS FRIDAY DECEMBER 8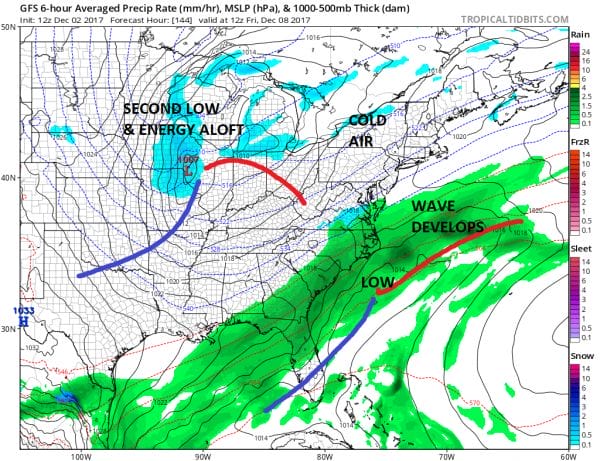 Notice a second low is dropping southeastward into NW Missouri at the same time. This is a reflection of a strong upper air trough that is digging southeastward from Canada. The problem here is that the systems are far enough apart that they basically behave as separate entities. The wave will move out ahead of the energy which would prevent this from becoming anything major.
GFS UPPER AIR FRIDAY MORNING DECEMBER 8
The European model is slower with that upstream energy by about 24 hours as it swings that system around on Saturday. This would imply a second low will develop nearby on Sunday and the European has a second round of precipitation which would likely be snow.
The GFS has the same idea except that it is 24 hours faster and moves that energy through on Saturday but the primary low passes to our north with a weak secondary just offshore.
WEATHER MODELS GFS SATURDAY MORNING 12/9/2017
WEATHER MODELS EUROPEAN MODEL SUNDAY MORNING 12/9/2017
Due to the speed differences in the energy the models are 24 hours apart here with the European slower. We will have to rectify which model has the better handle here on the speed of that second trough digging southeastward from Canada to determine which model has the better handle on this overall. The European snow forecast maps below are courtesy of Weather.US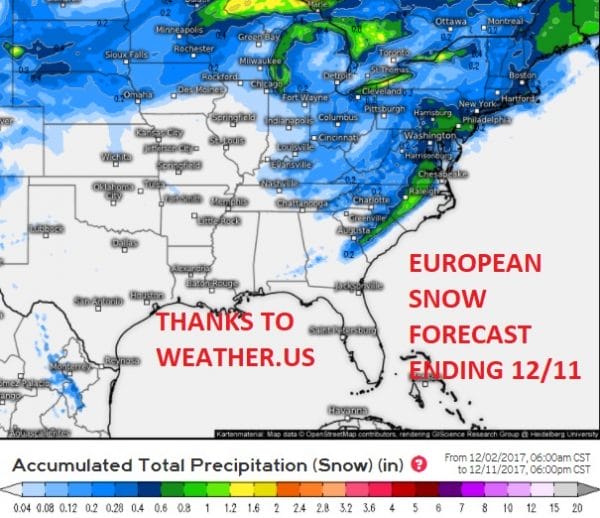 The weather model snow forecast maps from different sources all come up with their snow amounts in different ways. This seems to use conservative methods to come up with numbers which is probably the better way to go with these maps since they are usually not very reliable. I think the best way to look at these maps is to use them as a judge as where snow might fall and not necessarily the amounts since that is really a short term forecast problem and not a long term one.
MANY THANKS TO TROPICAL TIDBITS FOR THE WONDERFUL USE OF THE MAPS
GET JOE A CIGAR IF YOU LIKE!
FiOS1 News Weather Forecast For Long Island
FiOS1 News Weather Forecast For New Jersey
FiOS1 News Weather Forecast For Hudson Valley
NATIONAL WEATHER SERVICE SNOW FORECASTS
LATEST JOESTRADAMUS ON THE LONG RANGE
Weather App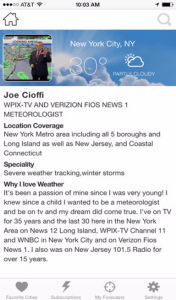 Don't be without Meteorologist Joe Cioffi's weather app. It is really a meteorologist app because you get my forecasts and my analysis and not some automated computer generated forecast based on the GFS model. This is why your app forecast changes every 6 hours. It is model driven with no human input at all. It gives you an icon, a temperature and no insight whatsoever.
It is a complete weather app to suit your forecast needs. All the weather information you need is right on your phone. Android or I-phone, use it to keep track of all the latest weather information and forecasts. This weather app is also free of advertising so you don't have to worry about security issues with your device. An accurate forecast and no worries that your device is being compromised.
Use it in conjunction with my website and my facebook and twitter and you have complete weather coverage of all the latest weather and the long range outlook. The website has been redone and upgraded. Its easy to use and everything is archived so you can see how well Joe does or doesn't do when it comes to forecasts and outlooks.
Just click on the google play button or the apple store button on the sidebar for my app which is on My Weather Concierge. Download the app for free. Subscribe to my forecasts on an ad free environment for just 99 cents a month.
Get my forecasts in the palm of your hand for less than the cost of a cup of Joe!