Weather Models Blocked Up Long Range
Weather Models Blocked Up Long Range
Get ready for everything to stop moving in the atmosphere for a while. High pressure both at the surface and aloft has begun building over Greenland and before this is all done, it will bring the atmospheric flow that normally goes from west to east to a grinding halt. The saying high over low means everything moves slow will certainly hold up here. In fact it may not move at all for a few days next week!
WEATHER MODELS SHOW BLOCKING BEGINS FRIDAY ON GFS MODEL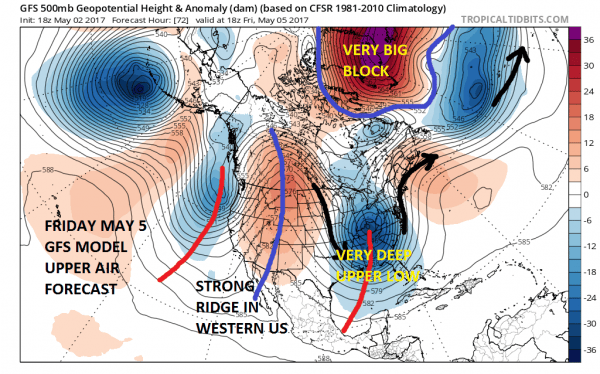 The upper air jet stream pattern is a sea of extremes. We have a very strong blocking high in Greenland pressing southwestward. A deep (intense) upper low in the Tennessee Valley, a strong ridge in the west, and a ridge in the Atlantic along 60 degrees west. In the short term it means rain for Friday on the order of a couple of inches as low pressure moves northward along the Appalachians. That's the easy part. Its what happens afterwards that makes things difficult because it will keep us in very unsettled weather conditions right through the weekend and possibly through a large portion of next week.
WEATHER MODELS SHOW STRONG BLOCKING GFS FORECAST THURSDAY MAY 11
Just how slow will things move you may ask? Well get a look at the upper air forecast for next Thursday. The block has retrograded westward into Labrador. In the meantime the upper air storm in the Tennessee Valley on Friday is sitting just to our east next Thursday!!!
The day to day weather after Friday's soaking rain will be highly unsettled. We will probably see chances for showers just about every day through much of next week. It will also be very cool across the Great Lakes Ohio Valley & Northeast through the period. We will begin below average temperatures on Saturday and it will remain cooler than average right through mid month as the blocking hangs stubborn.
MANY THANKS TO TROPICAL TIDBITS FOR THE WONDERFUL USE OF THE MAPS
GET JOE A CIGAR IF YOU LIKE!
LANDSCAPE COMPANIES FOR YOUR SPRING SUMMER FALL NEEDS
             LONG ISLAND                                ROCKLAND COUNTY                   Connecticut
     ROCKLAND COUNTY                         TRI STATE SNOW REMOVAL                           JOHNSTOWN PA
FiOS1 News Weather Forecast For Long Island
FiOS1 News Weather Forecast For New Jersey
FiOS1 News Weather Forecast For Hudson Valley
NATIONAL WEATHER SERVICE SNOW FORECASTS
LATEST JOESTRADAMUS ON THE LONG RANGE
Weather App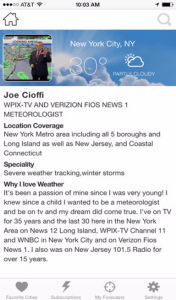 Don't be without Meteorologist Joe Cioffi's weather app. It is really a meteorologist app because you get my forecasts and my analysis and not some automated computer generated forecast based on the GFS model. This is why your app forecast changes every 6 hours. It is model driven with no human input at all. It gives you an icon, a temperature and no insight whatsoever.
It is a complete weather app to suit your forecast needs. All the weather information you need is right on your phone. Android or I-phone, use it to keep track of all the latest weather information and forecasts. This weather app is also free of advertising so you don't have to worry about security issues with your device. An accurate forecast and no worries that your device is being compromised.
Use it in conjunction with my website and my facebook and twitter and you have complete weather coverage of all the latest weather and the long range outlook. The website has been redone and upgraded. Its easy to use and everything is archived so you can see how well Joe does or doesn't do when it comes to forecasts and outlooks.
Just click on the google play button or the apple store button on the sidebar for my app which is on My Weather Concierge. Download the app for free. Subscribe to my forecasts on an ad free environment for just 99 cents a month.
Get my forecasts in the palm of your hand for less than the cost of a cup of Joe!