Weather Models Battle Over Blocking Strength Long Range
Weather Models Battle Over Blocking Strength Long Range
One of the consistent things with weather models in the last few weeks has been the remarkable inconsistency we have seen from model run to model run thanks to the strong North Atlantic Oscillation signal we have been seeing. This has caused models to behave in a rather haphazard fashion for the last several weeks particularly as you go out further in the long range. The block has been east based which favors cold air moving into Europe rather than in the Eastern US. Here cold shots except for 1 have been shallow and short lived. Weather fronts have been weak as a whole. Rainfall has been sorely lacking. This week starts off in that dry pattern with 2 cold fronts that will be moving through. One weak one on Monday keeps it cool for an extra day. Wednesday will be a warm day with highs close to 60 in some places as another front moves through dry. Thursday sees a shot of cool air ahead of a stronger front that approaches and moves through on Friday and from this we will see some rain.
GFS MODEL THURSDAY NIGHT INTO SATURDAY MORNING CLICK TO ANIMATE
Weather models have also backed off on developing a low on the cold front to our south and east as the energy aloft is weaker than previously shown. I still don't want to completely give up on the idea of a secondary low developing here and prolonging the rain. Either way there is no cold air to speak of so snow is not an issue nor will it be. Rainfall amounts look to be in the range of a quarter to a half inch in most places with higher amounts to the north.
GFS RAINFALL FORECAST
This system is very important to what happens in the longer term as the block in the Atlantic is forecast to shift westward into the Northwest Atlantic/Western Greenland which will change the pattern across North America. Yesterday models lined up pretty well with this idea but today's models seem to be going in somewhat different directions.
GFS VS EUROPEAN MONDAY DECEMBER 4 2017
The GFS & European are almost identical in the west on Day 8 in the long range but differences between the two show up in the East with a deeper (stronger) trough off the East Coast on the European and a slightly weaker blocking high that is building northwestward on the European. It seems to be a question of timing here between the two that impacts the models as we move toward day 10.
GFS VS EUROPEAN DAY 10 DECEMBER 6 2017
The weather models show big differences out at day 10. The European has a much colder look to it as it has the trough axis further east but the upper low that it rotates around further west. The European also does not have a strong ridge in the East because the block is stronger and more northwest than the GFS. Also the European handles the west completely differently from the GFS in that it never ejects the system in the west to the Plains but rather drops it southward to off the coast of Southern California and big upper high builds into the Northwest. This creates a jet stream flow from Northwest Canada into the Northern Plains.
Which model is right? Well we would normally tend to lean toward the European vs the GFS or Canadian in the long range but the European has not been very consistent lately on many levels. The GFS on the other hand has had a habit of picking up on changes faster than the European in the broad pattern but here too the model has not been consistent either. One of the thing I have said many times is that blocks are unstable and models can't handle them well. The other is that pattern evolution is a slow grinding process and not an event that takes place at a particular moment. The best we can do at this point is watch and wait to see whether the block flexes in a big way or will it be less imposing.
MANY THANKS TO TROPICAL TIDBITS FOR THE WONDERFUL USE OF THE MAPS
GET JOE A CIGAR IF YOU LIKE!
FiOS1 News Weather Forecast For Long Island
FiOS1 News Weather Forecast For New Jersey
FiOS1 News Weather Forecast For Hudson Valley
NATIONAL WEATHER SERVICE SNOW FORECASTS
LATEST JOESTRADAMUS ON THE LONG RANGE
Weather App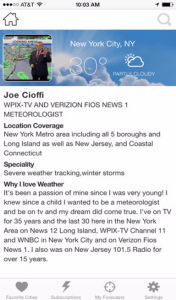 Don't be without Meteorologist Joe Cioffi's weather app. It is really a meteorologist app because you get my forecasts and my analysis and not some automated computer generated forecast based on the GFS model. This is why your app forecast changes every 6 hours. It is model driven with no human input at all. It gives you an icon, a temperature and no insight whatsoever.
It is a complete weather app to suit your forecast needs. All the weather information you need is right on your phone. Android or I-phone, use it to keep track of all the latest weather information and forecasts. This weather app is also free of advertising so you don't have to worry about security issues with your device. An accurate forecast and no worries that your device is being compromised.
Use it in conjunction with my website and my facebook and twitter and you have complete weather coverage of all the latest weather and the long range outlook. The website has been redone and upgraded. Its easy to use and everything is archived so you can see how well Joe does or doesn't do when it comes to forecasts and outlooks.
Just click on the google play button or the apple store button on the sidebar for my app which is on My Weather Concierge. Download the app for free. Subscribe to my forecasts on an ad free environment for just 99 cents a month.
Get my forecasts in the palm of your hand for less than the cost of a cup of Joe!