Weather Models Active Stormy Pattern
Weather Models Active Stormy Pattern
I have been repeatedly stating over and over that the pattern change you get and the pattern change you want are two different things. The process is long and grinding and this one is no different. What is becoming increasingly evident is that the first change to a more active stormy pattern is going to happen faster then the change to colder. That part is going to take longer to play out. Blocking is developing and this is going to be one of the drivers in how the upper air jet stream sets up in Canada. While there will be no real cold air all week long, an onshore flow and higher pressures to the northeast will keep temperatures in check. They will be above normal but not crazy above normal.
First off with respect to blocking, the North Atlantic Oscillation will be going negative and today's models suggest that it will stay negative longer. A negative NAO means blocking. The more negative the index the stronger the blocking. This offsets the off the wall positive East Pacific Oscillation which favors warmer than average temperatures in the east. The Pacific North America Pattern will go strongly positive next week which is supportive for storm development. Later next week the East Pacific Oscillation trend to negative which signals a colder pattern returning though I do not see it as being anything extreme.  Given all these complicated views of the atmosphere it seems reasonable that the forecast will be a bit chaotic over the next week.
There will be 3 weather systems to deal with. The first on Tuesday into Wednesday will feature some rain. Thursday looks like the one uneventful day. Then a second low will pass to our south with rain late Friday into Saturday. The third looks potentially stronger with rain and wind Monday and Tuesday (roughly).
The European weather model has been leading the way on the blocking high building in South Central Canada. You can see the impact of this as it displaces the southern jet well to the south and that southern jet is quite strong.  System after system will be moving along in the flow. At least the increased frequency of events will continue to dent the drought pattern. The strongest of the set will be impacting the east on Monday  Tuesday with rain and wind with a deep low to our south and east.
It would appear to me that the blocking pattern will probably be stronger and last longer then the models suggest. The European shows a nor'easter threat of wind and rain here. It actually does have some snow on the back side as the low pulls away but I can't get worked up over that because the amount of cold air is going to be essentially self produced and somewhat limited. Still this could be a significant wind and rain event. Beyond this system the European has yet another system approaching for later next week with a colder environment to play with. That for now is way out there in speculation land.
MANY THANKS TO TROPICAL TIDBITS FOR THE WONDERFUL USE OF THE MAPS
SNOW REMOVAL COMPANIES FOR YOUR WINTER NEEDS
             LONG ISLAND                                ROCKLAND COUNTY                   Connecticut
     ROCKLAND COUNTY                         TRI STATE SNOW REMOVAL                           JOHNSTOWN PA
FiOS1 News Weather Forecast For Long Island
FiOS1 News Weather Forecast For New Jersey
FiOS1 News Weather Forecast For Hudson Valley
NATIONAL WEATHER SERVICE SNOW FORECASTS
LATEST JOESTRADAMUS ON THE LONG RANGE
Weather App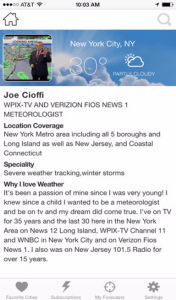 Don't be without Meteorologist Joe Cioffi's weather app. It is really a meteorologist app because you get my forecasts and my analysis and not some automated computer generated forecast based on the GFS model. This is why your app forecast changes every 6 hours. It is model driven with no human input at all. It gives you an icon, a temperature and no insight whatsoever.
It is a complete weather app to suit your forecast needs. All the weather information you need is right on your phone. Android or I-phone, use it to keep track of all the latest weather information and forecasts. This weather app is also free of advertising so you don't have to worry about security issues with your device. An accurate forecast and no worries that your device is being compromised.
Use it in conjunction with my website and my facebook and twitter and you have complete weather coverage of all the latest weather and the long range outlook. The website has been redone and upgraded. Its easy to use and everything is archived so you can see how well Joe does or doesn't do when it comes to forecasts and outlooks.
Just click on the google play button or the apple store button on the sidebar for my app which is on My Weather Concierge. Download the app for free. Subscribe to my forecasts on an ad free environment for just 99 cents a month.
Get my forecasts in the palm of your hand for less than the cost of a cup of Joe!