WEATHER MODELS SHOW CONFLICTS ON NEXT TUESDAY'S STORM
EUROPEAN VS GFS MODEL HAVE DIFFERENT OUTCOMES
There has been a lot of attention on the weather system for next week including chatter in various weather groups regarding snow along the coast. Right now and barring a surprise I don't think it is an issue. While the surface & the upper dynamics look like it has potential, the calendar is a huge factor against any snow issues here. Weather models in fact have some rather large disagreements regarding how this system evolves.
The GFS offers the next trough as being dominated almost entirely in the northern stream. This is important because this brings down some very cold air behind the storm system into the Northeast and Middle Atlantic States Wednesday into Thursday. The European has a less impressive northern stream system and leaves a large southern trough behind back in the Western Gulf. The GFS has a much weaker short wave there.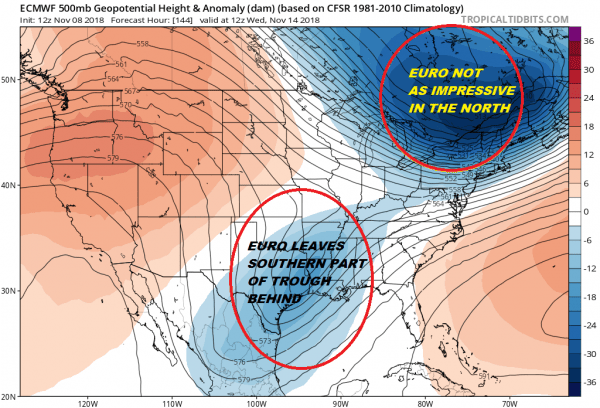 The jet stream above is after the Tuesday event is over with. If the European is correct the stronger south being left behind means a weaker system in the east on Tuesday that rides up the Appalachians. Yes there will be rain here and yes there probably be some snow in Western Pennsylvania and Western NY and into Northern New England but it will be rather limited.
The GFS brings almost all the energy out to the east with the stronger northern stream feeding in very cold air into the Ohio & Tennessee Valley. This creates a swath of snow on the back side and a more extensive snowfall across Western (and possibly Central Pennsylvania into upstate NY & New England. It also has more of a coastal track though the surface low does tend to be more of a coast hugger than anything else.
Both models have pretty much laid down these scenarios yesterday and neither has really budged very much in either direction. The difference really centers on the deep upper low in the northern part of the jet stream as it drops down from Canada with the GFS stronger and further south with this feature. It would seem to me that the European may be missing the boat here with the depth in the Northern Jet stream so we are leaning to the GFS idea at the moment. Again either way I don't that it matters much here since it will be a rain event for Eastern Pennsylvania to Southern New England. It would a question of a change to snow before ending in some inland areas but not much else. There is no blocking in the atmosphere so the cold air from this weekend will not be able to hold on.
Long range it would seem that the active pattern could moderate a bit if the GFS is right as the chess pieces move around a bit as we head into Thanksgiving. The Canadian connection of cold air looks to break down temporarily and a somewhat warmer pattern takes hold. We think that if that happens it would only be temporary.
SHOP THE JOESTRADAMUS STORE
MANY THANKS TO TROPICAL TIDBITS FOR THE WONDERFUL USE OF THE MAPS
FiOS1 News Weather Forecast For Long Island
FiOS1 News Weather Forecast For New Jersey
FiOS1 News Weather Forecast For Hudson Valley
NATIONAL WEATHER SERVICE SNOW FORECASTS
LATEST JOESTRADAMUS ON THE LONG RANGE