DOWNLOAD MY NEW FREE JOESTRADAMUS WEATHER APP FOR ALL DEVICES
THE APP IS ABSOLUTELY FREE TO ALL BUT CONSIDERING SUBSCRIBING TO PATREON FOR A WEATHER EXPERIENCE FREE OF ADS, EXCLUSIVE VIDEOS FOR MEMBERS ONLY AND MUCH MORE…STARTS AT $2 A MONTH..MESSAGE ME AT ANY TIME
Weather Improves Later Today
Snow Ice Rain Wednesday
Last night's weather system completely fell apart as snow to the north never hooked up with the precipitation from the developing secondary. A coating to an inch or so was all that was forecast for the coast and an inch or two inland but even this was a stretch inland. Along the coast a coating of sleet was it. In New England the bust was worse where forecasts of up to half a foot was on the table and most areas didnt even get half that. This of course means caution for the next weather system on Wednesday and here we have Winter Storm Watches up for the interior Middle Atlantic States.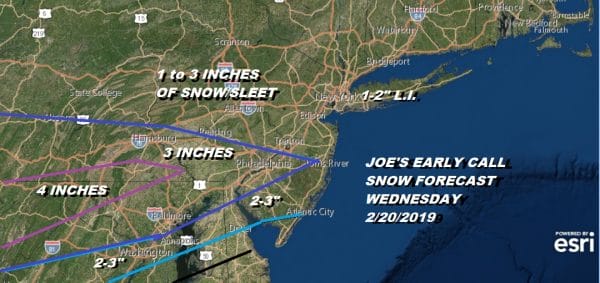 Here is my early call for Wednesday. For most of our area I am going for a one to maybe three inch snow and ice event before changing to rain. The heaviest snow will be to the south and west and that area of snow will be weakening as it moves northward. We will have more on this system later today.
REGIONAL RADAR

Meanwhile you can see on the radar that all the precipitation is now offshore. There is some light freezing rain/freezing drizzle this morning so watch for slick spots. The local radars also show most of the precipitation is out to the east of all the land areas.
LOCAL RADAR NEW YORK CITY
LOCAL RADAR PHILADELPHIA

Moving along for the rest of the day we will see clouds for much of the day. Sky conditions will improve this afternoon and we should go partly to mostly sunny with highs reaching into the 40s. Skies clear out tonight and it turns colder with lows in the upper teens and low 20s. Tuesday will be a cold sunny day with highs in the low to mid 30s.
This next storm system sets up much the same way as the one from last Tuesday but there are some notable differences and the main one is that the cold air is not as impressive for our area as it is for the Middle Atlantic States. This is why snow amounts will be higher to the southwest and by the time the snow gets here late Wednesday the cold air will be getting eaten away by a a southeast wind. That means the snow and ice area will shrink as it moves northward. I don't see room for upside here unless the high were to hold on longer and were further north. It turns to rain by evening Wednesday in most places. Low pressure heads to the Great Lakes (again), Rain ends overnight. Weather conditions improve for Thursday and Friday. I thought there might be a shot for 50s Thursday and will leave that idea on the table.
An early look at next weekend we see mild conditions and perhaps a chance for rain or showers next Sunday as another storm cuts to the Great Lakes. This brings us to the last days of the month of February with hardly a sign of a colder snowy pattern setting up.
MANY THANKS TO

TROPICAL TIDBITS

FOR THE USE OF MAPS
Please note that with regards to any tropical storms or hurricanes, should a storm be threatening, please consult your local National Weather Service office or your local government officials about what action you should be taking to protect life and property.