Weather Improves Cools Down Over the Weekend
Last night's cold front is now lying right on top of us and we will have to wait for a nudge from an upper trough to push the front offshore. That nudge will come and there shouldn't be any major complications from it. Leftover clouds will give way to some sunshine as the day wears on. While it will be warm with highs in the upper 70s to lower 80s, dew points will be dropping as the day wears on. Much cooler air will be arriving tonght setting us up for very cool Sunday and Monday.
SATELLITE

REGIONAL RADAR

The last of the clouds are hanging along the immediate coast and they should slowly edge to the east. Radars are relatively quiet today and other than an isolated shower that could show up inland, you can expect no issues today.
LOCAL RADAR NEW YORK CITY
LOCAL RADAR PHILADELPHIA

Skies clear tonight and temperatures will cool off with most lows in the low to mid 50s. Sunday is looking like a nice cooler day and a breezy day with sunshine. Highs will be about 10 degrees lower from Saturday as Sunday afternoon peaks will be in the upper 60s and lower 70s.
Cool high pressure is building in from the west and cool Canadian air will take temperatures down to the 40s to near 50 by Monday morning. Monday we should see a good deal of sunshine with highs in the upper 60s to some lower 70s. June begins on a cool note.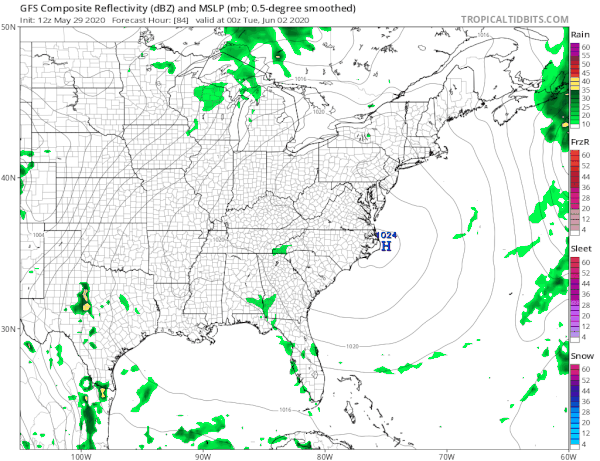 Two weather fronts are on the table this week. The first arrives late Tuesday and Tuesday night with the chance for showers and thunderstorms but there will be some sunshine ahead of it. Tuesday's highs will be in the 70s. Wednesday we should be back to some sunshine with highs in the 70s to near 80. Another front arrives Thursday with warm and humid conditions ahead of it. Highs will be reaching into the 80s Thursday and then another cool high comes in for Friday.
MANY THANKS TO TROPICAL TIDBITS FOR THE USE OF MAPS
Please note that with regards to any severe weather,  tropical storms, or hurricanes, should a storm be threatening, please consult your local National Weather Service office or your local government officials about what action you should be taking to protect life and property.