Weather Goes Downhill From Here Showers Tuesday Into Wednesday
 Wintry Mix Or Rain Thursday Friday
After a bit of a shaky start with lots of clouds the sun broke through and the temperatures soared as advertised into the 50s and 60s for highs this afternoon. Even coastal areas managed the 50s without the sea breeze getting in the way. Skies are clear this evening but we will likely cloud up overnight as the next cold front to the northwest gets close enough to trigger a few showers Tuesday morning. Temperatures will likely not drop far tonight as we bottom in the 40s and the winds go more southwest.
SATELLITE

REGIONAL RADAR

Radars both regionally and locally are nice and quiet for now but by daybreak we will likely see some showers around and all in time for the morning commute.
LOCAL RADAR NEW YORK CITY
LOCAL RADAR PHILADELPHIA

Tuesday we will see showers move through during the morning followed by a break in the action with highs mostly in the 50s. There could be a few more showers scattered around Tuesday night into Wednesday morning until the front passes. Then colder air arrives on Wednesday as temperatures settle back and eventually fall into the 30s.
I didn't see much reason to change my approach to the forecast with a cold rain developing along the coast early Thursday morning and sleet/freezing rain inland across Pennsylvania and in the Lower Hudson Valley and ultimately into Connecticut. Cold air is limited here so I don't expect this to be a big deal.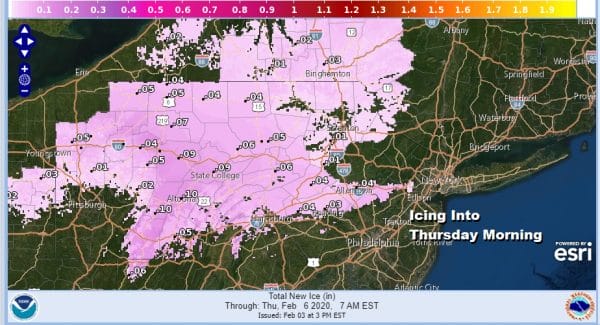 The NWS Ice forecast into Thursday morning looks reasonable to me. I don't see a lot of upside here. There might be additional icing for a few hours after 7am and there will be icing after 7am across parts of the  Northern New Jersey, the Hudson Valley and Connecticut. Here too I don't see it as being anything major. Once this is done we get a break later Thursday before rain returns with wave number 2 for Thursday night into Friday morning.
Weather conditions should improve later Friday into Saturday. I'm going to leave the door open for a chance for some snow Saturday night into Sunday morning as a weaker system moves through. It will have to line up perfectly for us to see anything substantial snow wise and odds are rather long but for now we will leave it in there and wait until these first two systems play through.
MANY THANKS TO TROPICAL TIDBITS FOR THE USE OF MAPS
Please note that with regards to any severe weather,  tropical storms, or hurricanes, should a storm be threatening, please consult your local National Weather Service office or your local government officials about what action you should be taking to protect life and property.