No issues, no complications with the weather forecast for at least the next 10 days! The biggest weather forecast question is how low do temperatures go tonight and it will be in the 40s in the coolest spots inland and away from urban areas while low 60s will be the bottom along most coastal locations. This morning's low in New York City was 59 which was the first time in the 50s since back in June. Inland spots have already seen their first upper 40s in the last couple of weeks so for you folks this is no big deal. Tuesday we should be back up into the low 80s. Wednesday we will see middle 80s.
The humidity really doesn't start to climb until Thursday at which point you will start to feel the difference. The next cold front comes through Saturday night or early Sunday and appears to be very weak. We may only see a few clouds with that and it may wind up coming through bone dry, followed by a dry cooler air mass that takes temperatures down closer to normal for Sunday and into early Next week. We may have to wait 11 or 12 days before the next threat for any important rain.
The quiet weather strecth is because of a strong high pressure ridge aloft in the east and a strong surface high to our south by Thursday. The strong southwest flow goes from California to Montreal with cool air in the west and northwest and warm weather in the east.
Carry this along through time and look at 9 days from now or next Wednesday and we have pretty much the same idea. It sure makes the weather forecast pretty easy.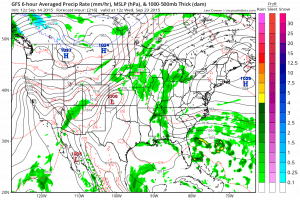 Just more of the same. It can't stay like this forever and at some point this will break down. We just aren't anywhere near that point yet. We may have to push it into October before any important change in the overall pattern. The upside is that the beach time is going to be extended for another 2 weeks especially with the ocean so warm.