Weather conditions across Northeast Pennsylvania will be deteriorating tonight. Showers are showing up in Western Pennsylvania in the late afternoon and they should begin to arrive here after sundown. After midnight until about 6am there should be some heavy downpours in the mix. Once that first batch moves out there should be a break followed by a second surge Tuesday afternoon and evening.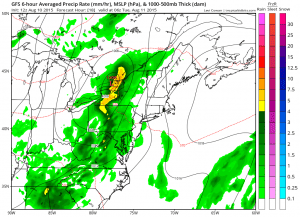 The front is going to take its time moving through tomorrow so we feel pretty confident about that second range surge. The threat for a severe thunderstorm to be in the mix is there though I think these the emphasis should be more on the rain than anything else. Still I want to alert you to the possibility that one or two of the embedded thunderstorms could become severe. Check the severe weather page for the latest on the threat.
The forecast map for late tomorrow afternoon shows the front slowing down and a wave developing on it. Once that wave goes by it will pull the front through. Rains should be done by the mid evening hours Tuesday and then nice weather returns for Wednesday and through the end of the week. Humidity levels should be low Wednesday and Thursday.