We are going to be in for quite a stretch of generally nice weather over the next week to 10 days. I was just looking at the weather pattern begin shown across several models and they are pretty much all the same A ridge will be dominating the flow over the eastern United States and there is really only one cold front of consequence which will be coming through later Saturday night. It will mark the transition from one relatively dry air mass to another even drier air mass! The result could be not a drop of rain for anyone for 10 days!
There is the temperature profile average departures from normal over days 1-5 and days 6-10. It is for them most part above in the east below in the west which reflects ridge in the east trough in the west. Today we have a developing low to the north continuing to feed down dry cool air as temps today won't get out of the 70s anywhere! Bright sunshine with a few patchy clouds from time to time and place to place and that's about it.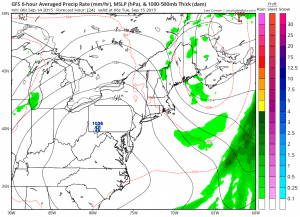 Nice to see a shot of below normal air even if it is only for a day or so. After today it warms up and we should be back into the 80s beginning tomorrow and lasting into the weekend. Humidity will remain low at least through Wednesday because of how the high is positioned. Even as the humidity climbs somewhat Thursday and Friday, I don not expect it to be anything unmanageable.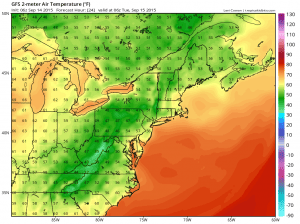 Nights will be in the 50s and some 40s for Tuesday morning and the 50s and 60s Wednesday and Thursday morning…60s to near 70 after that. It doesn't look to me like 90 degrees will be happening though perhaps by the end of the week and ahead of the next cold front it is not impossible for somebody to get close. This east coast ridge is strong but perhaps a little less so than what we saw last week. Enjoy the beautiful weather as the last days of Summer tick away.
Be sure to download my weather app and subscribe to my forecasts. The app is free and my forecasts are just 99 cents a month, advertiser free and no security issues.