Weather Conditions Improving
We see weather conditions improving and skies are trying to brighten in some places away from the ocean. Our onshore flow is relaxing slowly but surely and will disappear in the next severa; hours as the next weather system begins its approach. The satellite loop shows lots of clouds over the northeast back to the Great Lakes. A strong upper low over the northern Great Lakes is the driving force of the jet stream at the moment. This means weak disturbances will continue to rotate around it and through our area through Thursday. Since these systems are weak, they will only produce passing showers when they move through. One will move through Wednesday afternoon and another later on Thursday. For much of the time from now through Thursday it will be rain free.
Weather Conditions Improving Satellite Loop

Weather Conditions Improving Radar Loops

Radars show some showers moving off the New Jersey coast and heading northeast. Should they hold together they might brush Long Island and Southern New England this evening. The rain is light and just a minor inconvenience if they move through and should not last long.


Wedneday we will have clouds with some in and out sunshine. Some passing showers will come through during the afternoon and evening. Thursday should start dry with some passing showers around as well. Highs Wednesday should reach into the 60s and Thursday will be a little cooler with highs in the 50s.
Canadian Weather Model Sunday Afternoon
Colder air follows Friday and into the weekend. We continue to focus our attention on the possibility of a storm along the east coast over the weekend. Afternoon model runs are now almost done as we wait for the Euro model. With the return of Daylight Saving Time the models come out an hour later. The GFS model keeps things offshore while the Canadian model makes it a closer call. It would be cold enough for snow however time of day and the upper air structure remain huge issues and I continue to stand against the idea. It will come down to how far north the southern stream feature can get. We will wait for the Euro model to complete and post on this later today.
FiOS1 News Weather Forecast For Long Island
FiOS1 News Weather Forecast For New Jersey
FiOS1 News Weather Forecast For Hudson Valley
LATEST JOESTRADAMUS ON THE LONG RANGE
Weather App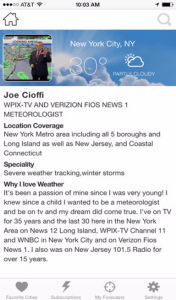 Don't be without Meteorologist Joe Cioffi's weather app. It is really a meteorologist app because you get my forecasts and my analysis and not some automated computer generated forecast based on the GFS model. This is why your app forecast changes every 6 hours. It is model driven with no human input at all. It gives you an icon, a temperature and no insight whatsoever.
It is a complete weather app to suit your forecast needs. All the weather information you need is right on your phone. Android or I-phone, use it to keep track of all the latest weather information and forecasts. This weather app is also free of advertising so you don't have to worry about security issues with your device. An accurate forecast and no worries that your device is being compromised.
Use it in conjunction with my website and my facebook and twitter and you have complete weather coverage of all the latest weather and the long range outlook. The website has been redone and upgraded. Its easy to use and everything is archived so you can see how well Joe does or doesn't do when it comes to forecasts and outlooks.
Just click on the google play button or the apple store button on the sidebar for my app which is on My Weather Concierge. Download the app for free. Subscribe to my forecasts on an ad free environment for just 99 cents a month.
Get my forecasts in the palm of your hand for less than the cost of a cup of Joe!
<