Weather Conditions Improve Winds Increase Colder Air Arrives Snowstorm Upstate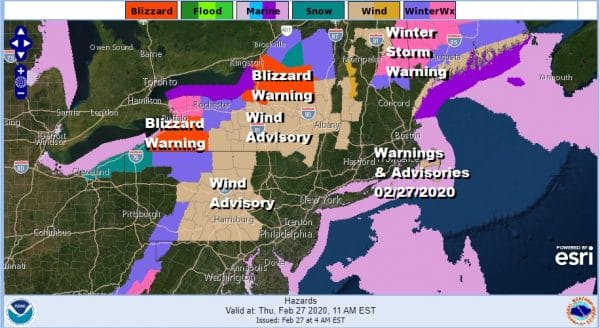 When you look at the warnings and advisories map across the the Northeast and the Northern Mid Atlantic you can see that the one large area left out of all the action is the urban corridor of I-95 as has been the case since before Christmas. Wind advisories are up across Central Pennsylvania from north to south as well as Central NY. We also have a very active lake effect snow machine getting underway which accounts for the blizzard warnings in Southwestern NY as well as North Central NY. 2 feet or more of snow is forecast in some areas! Snow lovers need to make a road trip For the urban corridor however even last nights moderate to heavy downpours have now pulled away to the northeast and weather conditions are set to improve as the day wears on.
SATELLITE

REGIONAL RADAR

The regional and  local radars all confirm that the rain has shfted northeastward and we are seeing snow on the western side of this in Upstate NY as that heavy snow gets underway. The radars up north will remain busy into Friday.
LOCAL RADAR NEW YORK CITY
LOCAL RADAR PHILADELPHIA

Meanwhile from Northeast Virginia to Southern New England it is all about slow improvement today with clouds giving way to some sunshine, a gusty wind and temperatures that will be in the low to mid 40s in most places. the next 3 days will be dry and cold but manageable with nothing out of the ordinary. Skies will at least partially clear tonight. There is an upper trough set to move through Friday with clouds and some sun. Highs will be just in the upper 30s to lower 40s.
Saturday is likely to be the coldest day of this stretch of dry weather with highs just in the 30s. Sunday we will see sunshine giving way to arriving clouds with highs in the 30s to near 40. February ends and March begins with temperatures just a little below average for this time of year.
Next week looks like a busy week for weather systems continuing to move along at an active pace. One passes to our north on Monday, a second on Tuesday and the third and strongest later Wednesday into Thursday. This is going to put us back into gloom and doom again for several days with rounds of rain from time to time. No snow is in the forecast. Time has run out for the most part as the weather pattern continues to remain unchanged going into the middle of March.
The map above shows the expected snowfall over the next 36 hours. For more specific information you can download the free Meteorologist Joe Cioffi Weather App were you can pull up any snow forecast map from the NWS from Georgia to Maine.
MANY THANKS TO TROPICAL TIDBITS FOR THE USE OF MAPS
Please note that with regards to any severe weather,  tropical storms, or hurricanes, should a storm be threatening, please consult your local National Weather Service office or your local government officials about what action you should be taking to protect life and property.