Weather Conditions Improve New Years Eve New Years Day No Major Storms Around
We are watching the last bands of rain and even some thunderstorms that occurred this afternoon and evening move away to the northeast. Weather conditions may finally begin to slowly improve overnight as low pressure develops off the New Jersey coast and begins to slowly move away to the northeast. Rainfall amounts have been in the 1 to 2 inch range as advertised especially for those of you that saw thunderstorms.
SATELLITE

REGIONAL RADAR

The satellite picture and the radar loops showing that arm of moisture lifting northeastward through New England. Central New England is seeing heavy freezing rain and sleet while areas in New Hampshire and Maine are seeing moderate to heavy snow this evening. Elsewhere the last of the rain showers continue to play through on the local radars.
LOCAL RADAR NEW YORK CITY
LOCAL RADAR PHILADELPHIA

Everything remains on course for Tuesday and Wednesday. Tuesday we will see clouds and some sun with a gusty breeze. There might even be a stray rain or snow shower inland Tuesday afternoon with highs in the 40s. The ball drops on Times Square under a mainly clear sky with a light breeze and temperatures in the upper 30s to near 40. Wednesday look for clouds and some sunshine with chilly conditions and highs in the upper 30s and lower 40s.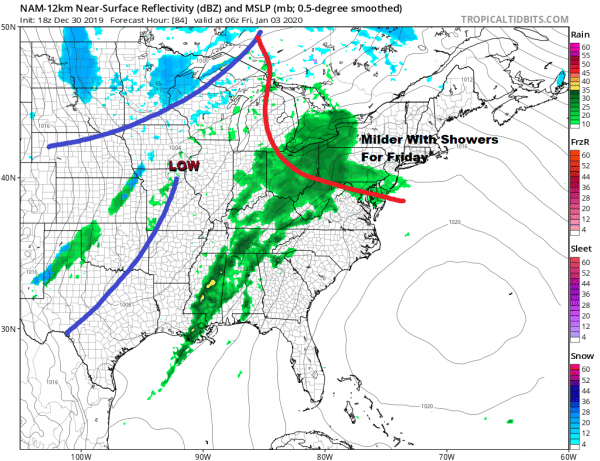 Thursday look for sun and arriving clouds with highs in the 40s. Friday brings milder air back with some showers arriving early on Friday. This is ahead of a cold front and then a second front swings into action for Saturday with more showers possible. Friday's highs as well as Saturday's will be in the 50s before colder air returns for Sunday and for next week.
MANY THANKS TO TROPICAL TIDBITS FOR THE USE OF MAPS
Please note that with regards to any severe weather,  tropical storms, or hurricanes, should a storm be threatening, please consult your local National Weather Service office or your local government officials about what action you should be taking to protect life and property.