Weather Conditions Improve Great Weather Next 4 Days
Weather Conditions Improve Great Weather Next 4 Days
Everything is moving on course this morning as weather conditions improve. A cold front is moving offshore. Clouds are thinning out and before too long we should be partly to mostly sunny. The northwest wind will keep the sea breeze out today so all areas warm up into the upper 70s and lower 80s. This is the beginning of 4 great days of weather. Thursday will be the coolest of the 4 with highs in the mid to upper 70s and then it is into the 80s Friday and 80s to near 90 on Saturday.
SATURDAY FORECAST HIGH TEMPERATURES
The satellite picture this morning shows not too much happening though we continue too see moisture from the tropics extending northward into the Southeast US. This is going to continue right through the holiday weekend and for much of next week. At least for now the strong jet stream from Canada has dipped down far enough south to keep that moisture from getting here.
EASTERN SATELLITE

REGIONAL RADAR

There really isn't too much change in the outlook going forward. We are certain that there are no issues to worry about through Saturday evening. At that point there could be a scattered shower or thunderstorm.
SUNDAY FORECAST HIGH TEMPERATURES
MONDAY FORECAST HIGH TEMPERATURES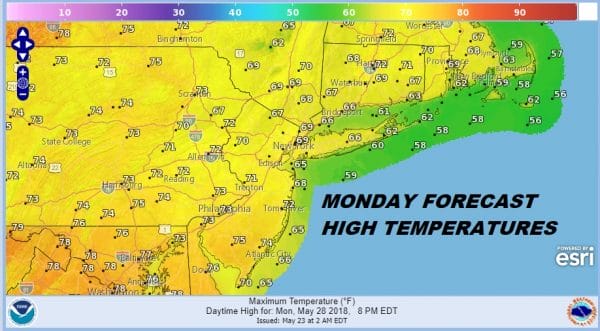 A cold front will be dropping southward Saturday night and it will put us in a cooler onshore flow for Sunday & Monday with the chance for some showers both days. I do not believe either day is a washout by any means but if you have to pick a day to do something outdoors Saturday is the one. The other focus of attention this weekend is the possibility of a tropical depression or tropical storm forming in the Gulf of Mexico. We think the odds of this happening are increasing and we will talk more about this later today.

GET JOE A CIGAR IF YOU LIKE 
FiOS1 News Weather Forecast For Long Island
FiOS1 News Weather Forecast For New Jersey
FiOS1 News Weather Forecast For Hudson Valley
LATEST JOESTRADAMUS ON THE LONG RANGE