Weather at NYC or anywhere else this weekend looks very good. The only issue for Saturday will be lingering clouds behind the cold front. The front will be stalling for a little while to our south Saturday morning. There could be a few showers over Southern New Jersey tomorrow morning but that should move away to the east before too long. Gradually as the day wears on the cloud cover will begin to thin out and some breaks of sunshine should develop first north and west and later south and east. In fact southern and eastern areas may not clear out until Saturday evening. Still outdoor activities should be fine but you will notice the change in temperatures as it will be at least 10 to 15 degrees cooler in some areas with highs in the upper 50s to lower 60s.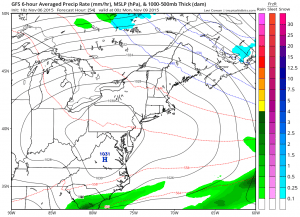 Saturday night skies should clear and both Sunday and Monday look good with sunshine both days but highs will be back to normal for early November which is in the 50s. Sunday morning and Monday morning will be chilly with most lows in the 30s to near 40. Coolest spots will be in the 20s.
The next complication may come on Tuesday with an onshore flow. Clouds will be in the forecast for Tuesday. The late afternoon GFS weather model run seems to develop a stronger wave and brings some rain to the coast. I'm not sure that I believe this at this point as this is a bit of departure from prior runs. Also there appears to be a tropical system on the southern end of this east of Florida. This is the system that is moving north of Puerto Rico this weekend. The National Hurricane Center will be monitoring this over the weekend for possible development.
The next cold front of importance will arrive on Thursday and with that there could be some showers followed by another shot of chilly air to bring temperatures back to near normal. Enjoy your weekend which will be probably the last weekend with good fall foilage viewing as we are now just past the peak in most areas.