Weak Weather Systems Continue to Move Along All Week

Weather in 5/Joe & Joe Weather Show Latest Podcast
Weak Weather Systems Continue to Move Along All Week
Colder than average temperatures continue to dominate the weather scene this week. We have a series of weak fast moving systems that will create some minor issues along the away but there are no serious weather issues to consider this week. One such disturbance is moving across Pennsylvania and we are seeing clouds there and the radar is showing some bands of snow showers. Look for the chance for a passing rain or snow shower this afternoon or evening. Otherwise we will have clouds and sunshine going back and forth. Highs will be in the upper 30s and lower 40s.
SATELLITE

WEATHER RADAR

Not much changes tonight or Tuesday. I'm throwing in the chance for a rain or snow shower. Otherwise look for some clouds tonight with lows mostly in the upper 20s to mid 30s and high Tuesday will be just into the 40s. Tuesday we will probably see in and out sun and clouds.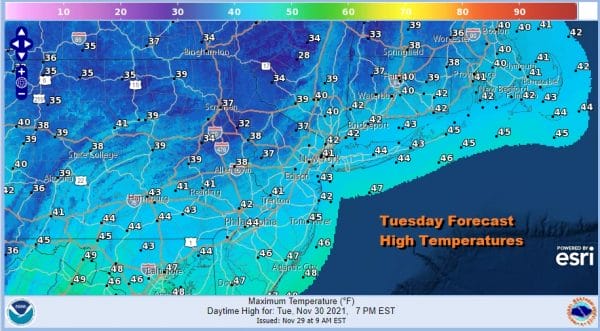 The west to east wave train continues Wednesday but at least we should start to see temperatures move up a little higher for mid week. Wednesday we are looking at sunshine and some clouds with highs reaching the mid to upper 40s and Thursday look for sunshine and warmer temperatures as highs reach into the 50s. Thursday will be the warmest day of the week.
Another front passes Friday and yet another late Saturday. That one could be setting us up for a more important wave of low pressure early next week. This has a shot to bring a cold rain along the coast and rain or snow inland depending on how a cold high sets up to our north over the weekend.

Please note that with regards to any severe weather,  tropical storms, or hurricanes, should a storm be threatening, please consult your local National Weather Service office or your local government officials about what action you should be taking to protect life and property.