Weak System Today Tonight Stronger Low Thursday Into Friday
Raw Chilly Throughout

Weather in 5/Joe & Joe Weather Show Latest Podcast
Weak System Today Tonight Stronger Low Thursday Into Friday Raw Chilly Throughout
Think back to Sunday's major snow storm in the Rockies and what is left is not much. It is remarkable how quickly that storm weakened and there is very little left to it. We have clouds that have moved in. Temperatures are certainly on the cold side and I don't expect them to rise much today. Most highs today will be in the upper 30s to lower 40s however north and west of NYC and Philadelphia most highs will be in the mid to upper 30s.
SATELLITE

There is some precipitation that is still left with this dying system and we are seeing snow showing up on the regional radar moving east. It is a narrow band of snow and it is running into a very dry air mass so how much if any of this snow actually reaches the ground remains to be seen. Dew points remain in the single digits and that is going to be an issue all day. It is too dry.


We will leave the chance for rain or snow showers scattered around tonight. The amount of total precipitation will be under a tenth of an inch so there is the outside chance someone gets a coating out of this and that's it. Temperatures overnight will be mostly in the 30s.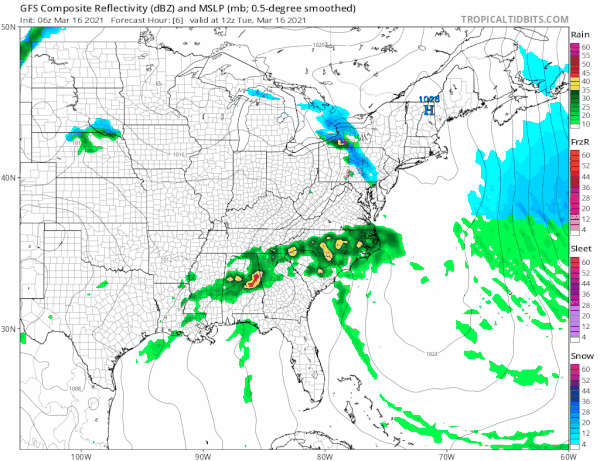 Wednesday we are in between weather systems. Look for clouds around. Perhaps there could be some breaks of sun in the mix. However clouds I think will dominate. Highs will be in the upper 40s and lower 50s. Then here comes the next stronger storm system for Thursday into Friday. Rain develops Thursday and it is a much needed rain. Highs will be in the upper 40s to lower 50s. The low tracks to the south and there is colder air in Eastern Canada that will be dropping southward Thursday night.
Watching the two loops, the cold air arrives just as the precipitation is about to shut off. There could be a change to snow before it ends north and northwest  of NYC but between the borderline temperatures to begin with, and the flat nature of the wave to the southeast, it is hard to see how anyone gets much out of this.
For now I will leave open the chance for a coating to an inch or maybe 2 especially in elevated areas north and northwest of Route 80 in Northern New Jersey and mainly north of Route 84 in the Hudson Valley and Connecticut. This all ends Friday morning. Look for improving weather conditions Friday afternoon and a dry chilly weekend for the arrival of spring.

Please note that with regards to any severe weather,  tropical storms, or hurricanes, should a storm be threatening, please consult your local National Weather Service office or your local government officials about what action you should be taking to protect life and property.