Watching Coastal Low Should Stay Offshore
Watching Coastal Low Should Stay Offshore
The entire flavor of this situation has changed from a few days ago when we were dealing with a wave on a front coming through and bringing snow. That lead system is so weak now you can barely find it. Energy is left behind across the Gulf states as the northern energy pivots and swings around. This energizes a second low in the Southeast and it does bring it perilously close to the coast Saturday night.
NAM MODEL SUNDAY 2AM APRIL 8 2018
This situation is like a number of cases we saw this winter where the northern shortwave sharpens up just enough at the last minute to pull the coastal low and trough back westward to the coast. It would seem that the troughs may be just far enough apart to keep this from happening this time around or if it does, it would graze coastal areas of New Jersey and Long Island Saturday night or early Sunday morning.
NAM MODEL UPPER AIR SUNDAY 2AM APRIL 8 2018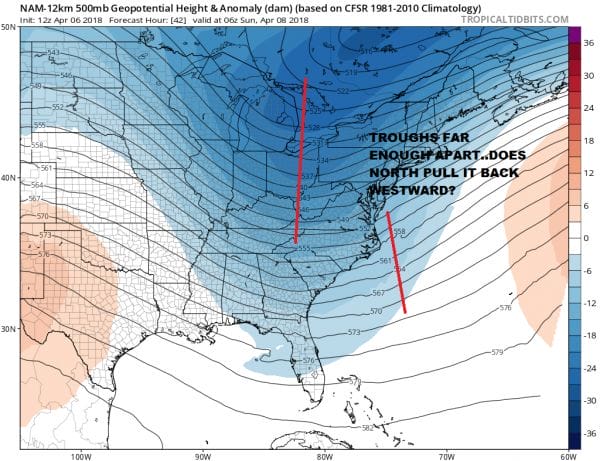 I am leaning toward the offshore too little too late idea here with maybe a grazing for Coastal New Jeresy and Long Island Saturday night. If this is going to be pulled back westward look for the NAM model to start doing this either in the next run late this afternoon or the one that follows tonight. If not then look for Saturday to be cloudy and chilly with temperatures in the 40s and early clouds giving way to mostly sunny but chilly conditions on Sunday with highs in the 40s. It's never easy.
SHOP THE JOESTRADAMUS STORE
MANY THANKS TO TROPICAL TIDBITS FOR THE WONDERFUL USE OF THE MAPS
GET JOE A CIGAR IF YOU LIKE!
FiOS1 News Weather Forecast For Long Island
FiOS1 News Weather Forecast For New Jersey
FiOS1 News Weather Forecast For Hudson Valley
NATIONAL WEATHER SERVICE SNOW FORECASTS
LATEST JOESTRADAMUS ON THE LONG RANGE