Warmup Begins Some Clouds Around Today No Major Issues Through Sunday
WEATHER IN 5 PODCAST FRIDAY 9/25/2020
The remnants of Tropical Storm Beta are moving across the Southeast US today and as a result we are seeing high clouds being pushed up northward into Southern New England. This should not be a huge deal nor will it create a solid overcast. We should manage some sunshine through all of this today and temperatures will be headed higher. Highs will be in the 70s to near 80. You will notice on the regional radar that some rain is moving through North Carolina and Southern Virginia. That rain is headed eastward and not northward so we will miss out on this moisture.
SATELLITE

REGIONAL RADAR

The remnants of Beta are strung out across the Southeast back into the Central Gulf States and it will take another day or two for this moisture to get out of the way. All of it slides eastward and doesn't really push any further north than Virginia and the Delmarva Peninsula. Tonight will be on the warm side with some clouds around and lows in the 50s to lower 60s. Thursday through Saturday we will see clouds and some sunshine with highs each day in the mid 70s to around or just over 80 in spots. Sunday will likely be the warmest day with highs in the upper 70s to lower 80s and some sunshine. This is ahead of a cold front that approaches Monday.
This is the first of two weather fronts we will see next week that will take us on stair step decline in temperatures. As dry and rain free as this week is we will to an extent be on the other side of that equation next week. Showery rains moving in on Monday and then there should be be more showers Monday night into Tuesday. Monday will still be warm with most highs in the 70s.
Front number 1 will have cooler air behind it but we will have to wait until front number two moves through sometime on Wednesday to bring in a shot of autumn air in from Canada. So the risk for showers continues. There actually should be a decent amount of rain from these systems to alleviate the dry conditions that have developed across parts of the Northeast US in the last several weeks.
This is going to take us into a stretch of below normal temperatures that will last at least a week. This begin next Tuesday and takes us right through the first 7 days of October.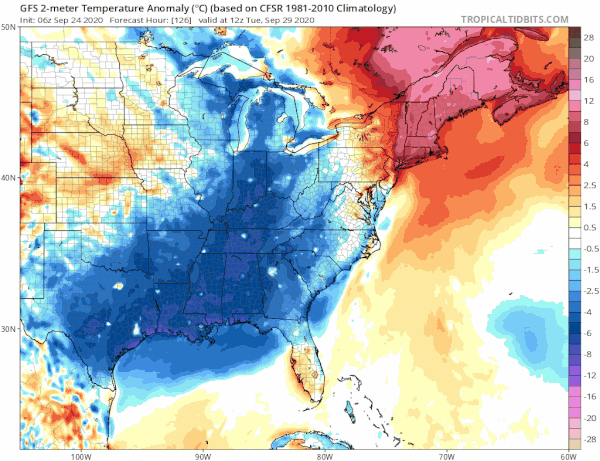 For the first time in several or more years we are actually seeing autumn weather arriving with the calendar and not getting delayed. Last year we reached 90 degrees in many areas in early October before the summer pattern finally broke down. This year you will be grabbing for sweat shirts and jackets rather than short sleeves and shorts. Happy Autumn!
MANY THANKS TO TROPICAL TIDBITS FOR THE USE OF MAPS
Please note that with regards to any severe weather,  tropical storms, or hurricanes, should a storm be threatening, please consult your local National Weather Service office or your local government officials about what action you should be taking to protect life and property.