Warmest Days of the Week Today Friday, Chilly Rain Saturday, Dry Sunday

Weather in 5/Joe & Joe Weather Show Latest Podcast
Warmest Days of the Week Today Friday, Chilly Rain Saturday, Dry Sunday

It is amazing sometimes how you can have a storm as powerful as this one sitting in the Western Great Lakes and our weather here is going to actually benefit from it. This storm is a wrapped up 979 mb low and it is driving a strong southwest flow up the East Coast. A warm front has passed by and sits in Northern New England. What is left for us is a day that should be no worse than partly sunny with a gusty breeze and highs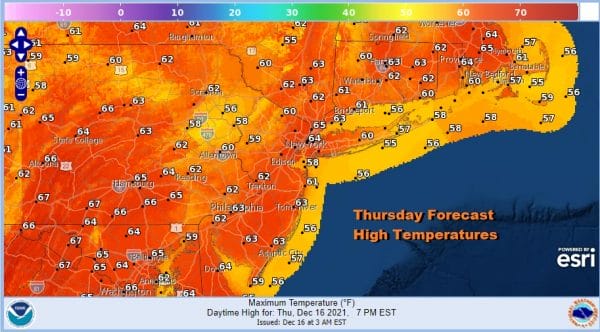 At the very least high temperatures this afternoon will reach the low and middle 60s but there could be a little upside if clouds are kept to a minimum and get out of the way fast enough during this morning. There are still some leftover scattered light showers on the Northeast regional radar but they should get out of the way and disappear soon enough. Three is a cold front that will be approaching and moving through tonight but this storm is going so far north of us that there is no moisture with it and the front therefore comes through dry.
SATELLITE

WEATHER RADAR

Temperatures tonight won't be dropping much and that leaves us in some of the leftover warm air on Friday. We should have sunshine for much of the day and there is no reason why temperatures can't find their way back to the upper 50s and lower 60s. There really isn't any cold air behind that front that passes Thursday night.
Friday night high pressure will be building southward from Southeastern Canada and into New England and that colder air (technically speaking) will be filtering southward. The old cold front stalls and a wave develops on it in the Ohio Valley and heads northeastward.
This is going to make for a gray and gloomy Saturday. Across the Catskills and north of Route 84 a wintry mix is likely and it will be mostly snow north of I-90. To the south it will be rain but that shuts off once you get into Southern Pennsylvania and Southern New Jersey. This leaves the area in a rather wide temperature range.
This low does move along and a cold front passes Saturday night with some showers going by. Then colder air comes in Sunday on the backside. It will be a breezy and much colder day Sunday with some sunshine. Highs will just be in the upper 30s to lower 40s and temperatures get back closer to average. Next week looks relatively benign as we head toward Christmas. There is a colder look showing up beginning Christmas Eve and taking us through the last days of December and we will be discussing those possibilities in the long range later today on Patreon.

Please note that with regards to any severe weather,  tropical storms, or hurricanes, should a storm be threatening, please consult your local National Weather Service office or your local government officials about what action you should be taking to protect life and property.