Warmer Thursday Windy Very Warm Friday Cooler Weekend Showers Sunday

Weather in 5/Joe & Joe Weather Show Latest Podcast
Warmer Thursday Windy Very Warm Friday Cooler Weekend Showers Sunday
Overnight rains have now moved away to the northeast and that has left us in a warmer air mass. It has also left us in low clouds and fog this morning in many areas but we should see this burn off later this morning and then we break out into some sunshine. Temperatures overnight went no where and we are in the 50s to near 60. Normally this would be a good launching pad to take highs into the 70s at least. However how much sun will be the big question for today.
SATELLITE

The satellite is also showing clouds to the southwest and this is ahead of a developing storm that is heading northward just east of the Mississippi River. This is going to lead to a widespread severe weather outbreak across the Deep South. The Storm Prediction Center is indicating a rare high risk for parts of Mississippi and Alabama. This is the second time in 8 days this area has seen a high risk severe weather forecast. In fact SPC is indicating a 10% chance for an extreme tornado which is a rather high number in the enhanced to high risk zones!
In the meantime our weather will be quiet for the rest of the day. Temperatures should be able to reach 70 or better from NYC west and south with low to mid 70s across Northern Virginia to Southern Pennsylvania and Southern New Jersey. 60s to near 70 will be common in Southern New England with 50s and 60s along the coast.
That storm system to the west heads to the Eastern Great Lakes and strengthens. This will bring a few showers tonight and maybe even a rumble or two of thunder toward morning. Then we see winds increase sharply Friday from the west southwest. It isn't often that we get a screaming wind with warm temperatures but that will be the case Friday. We will break out into sunshine and this combination of a screaming west wind and sun will take temperatures up through the 70s and some areas could see highs reach 80 degrees. I would not be surprised to see winds gusting 30 to 40 mph at times.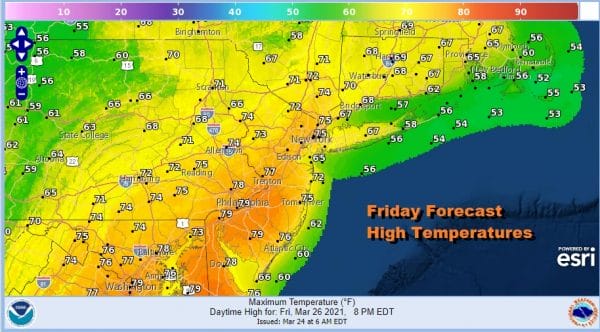 Ultimately we will cool off over the weekend and Saturday will be the better of the two weekend days. Look for sunshine Saturday with temperatures in the cooler 60s. Sunday brings the next weather system and cold front. Ahead of it we will see increasing clouds Saturday night with showers arriving during Sunday morning from west to east. Temperatures Sunday will reach the 60s. There could be a thunderstorm in the mix as a cold front moves by Sunday evening. Then it turns windy and cooler for Monday of next week with some sunshine returning. The gradient gets rather tight on Monday so we will have to see whether it meets wind advisory criteria.
MANY THANKS TO TROPICAL TIDBITS FOR THE USE OF MAPS
Please note that with regards to any severe weather,  tropical storms, or hurricanes, should a storm be threatening, please consult your local National Weather Service office or your local government officials about what action you should be taking to protect life and property.