Warmer Than Normal Record Highs Possible This Weekend
Watching Southeast Coastal Low Next Week

Our stretch of warmer than average nice weather is in its second day as dry air covers much of the Eastern US and, more importantly, the air mass is one that is already starting out warm and will turn warmer as we head into the weekend. The satellite loops and the radar loops are not showing much of anything regarding clouds let along showers. Therefore it is a day of sunshine. We will have a light wind from off the ocean but hat won't have much impact on high temperatures which will be in the middle 60s to around 70.
SATELLITE

WEATHER RADAR

Nothing has really changed on overnight weather model guidance. We will conitnue to be dry through Sunday and temperatures are headed higher over the next few days. Nice clear skies tonight will lead to lows in the mid 40s to lower 50s. Friday ends the work week with sunshine taking highs to the upper 60s and some lower 70s.
Now to the weekend where the high that is to our north at the moment parks itself off the New Jersey coast. That will turn our winds to the south and southwest and that will allow temperatures to warm even higher. In fact we could see temperatures reaching near record highs in some places.
The other issue this weekend is one of an approaching weather front which will be producing showers thunderstorms and severe weather today in the Southern Plains and in the Western Gulf States and Lower Mississippi Valley Friday. That front will gradually weaken and fall apart as it moves eastward. There are no issues from this front Saturday and we will have sunshine taking highs at least in the low to mid 70s and I would not be surprised to see some places hit the upper 70s. The same holds true for Sunday.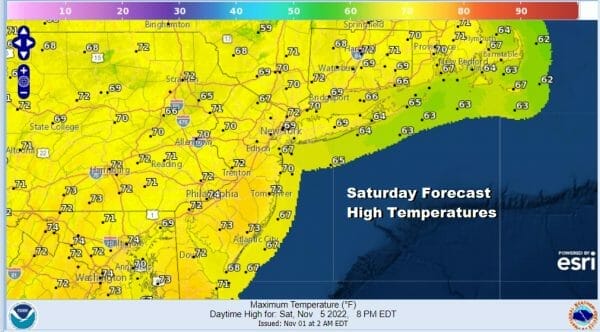 No rain is forecast through the weekend and probably not through at least the middle of next week. A big high building from Southeast Canada will bring cooler air next week but still near or above average. We will conitnue to watch the prospects for low pressure coming out of the Caribbean and developing to an extent off the Southeast US coast.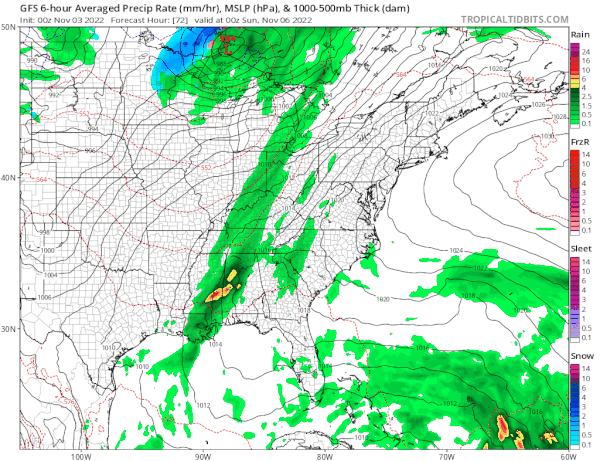 Next week looks dry through Thursday and while it will start warm Monday with highs still reaching into the 70s, we will see much cooler temperatures as a large high builds into the Northeast. Highs will be in the low to mid 60s Tuesday and probably not out of the 50s Wednesday and Thursday. To the south we will see a developing low east of Floriday and there is potential here for this system to become tropical or subtropical in nature. It doesn't change the fact that for the Northeast and Northern Mid Atlantic states no rain will happen through Thursday of next week. Eventually a front to the west will bring up some of that tropical moisture up the coast but that won't happen until late next week at the earliest.
Please note that with regards to any severe weather,  tropical storms, or hurricanes, should a storm be threatening, please consult your local National Weather Service office or your local government officials about what action you should be taking to protect life and property.