Warmer Saturday Weather Pattern Changing
Warmer Saturday Weather Pattern Changing
We are continuing to see cold air over us today and we are at least enjoying plenty of sunshine. Temperatures are managing to reach up into the 30s this afternoon which is a lot better than another day of temperatures not out of the teens or 20s. The very cold weather pattern across the United States continues to undergo change. The non stop arctic connection has broken down and it it looks like we will see milder conditions overall over the next 2 weeks. Cold intrusions will be brief as storm tracks now shift to the west to the Great Lakes.
US SATELLITE

Much of the activity today is concentrated in the Western US as a storm moves inland into the Pacific northwest. Elsewhere clouds are streaming eastward in response to warmer air coming east. We still have another cold night to get through and then temperatures will begin to moderate on Friday. Radars are quiet for the most part with just some lake effect snow going on in parts of upstate NY and that will shut down soon.
REGIONAL RADAR

Tonight will be another cold night with clear skies and lows in the teens to low 20s though wind should not be an issue. Then on Friday we will see sunshine taking highs well into the 30s to near 40. This is setting the stage for a nice and we will call it warm Saturday.
WARMER SATURDAY FORECAST HIGH TEMPERATURES
Saturday will be nice and sunny and we should see highs reach into the lower 50s in most areas except the coldest spots well inland north and west but here too it is a break to see temperatures in the 40s. Even though the weekend will be dry, Sunday will be not as warm as Saturday.
SUNDAY FORECAST HIGHS
The problem with Sunday is that we will have a weak cold front moving southward and through our area Sunday morning. This is due to a storm developing to the west and heading into the Great Lakes Monday and Tuesday. There may be more clouds around on Sunday and combined with a north wind, it will probably mean highs in the low to mid 40s instead of 50s.
GFS SUNDAY 1PM FORECAST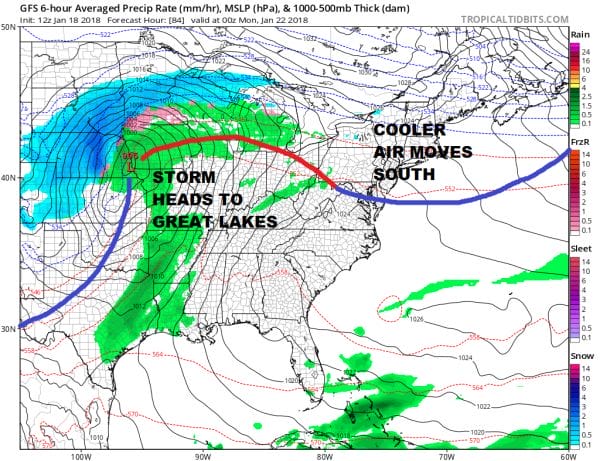 With that storm heading to our west we will see clouds and showers later Monday with highs just in the 40s. Then look for a good chance for showers later Monday night and Tuesday as the front approaches and eventually  moves through here. Behind the front will be an intrusion of cold air for the middle of next week. With this pattern there are no snow threats on the horizon.

GET JOE A CIGAR IF YOU LIKE 
FiOS1 News Weather Forecast For Long Island
FiOS1 News Weather Forecast For New Jersey
FiOS1 News Weather Forecast For Hudson Valley
LATEST JOESTRADAMUS ON THE LONG RANGE