Warm Humid Saturday Chance For Showers Overnight
Very Warm Humid Sunday And Next Week

Weather in 5/Joe & Joe Weather Show Latest Podcast
Warm Humid Saturday Chance For Showers Overnight
Very Warm Humid Sunday And Next Week
The weekend is underway and we are seeing high clouds streaming up from the south. Low pressure is moving northward through the Southeastern and Mid Atlantic states today and with it as an area of heavy downpours and a few thunderstorms. However they should stay to the south during the daytime today leaving us with very warm and humid conditions along with periods of sunshine veiled behind high clouds. Temperatures today will top in the middle to upper 80s which will be a few degrees lower than yesterday thanks to the slowly increasing cloud cover.
SATELLITE

Local radars are picking up on some scattered light showers passing by across the Middle and Upper Hudson Valley into New England. The area of rain on the regional radar is working its way northward through Virginia and into Maryland and the Delmarva Peninsula.
WEATHER RADAR

The low and the rain shield should weaken as it moves northward tonight into Sunday morning but we will include the chance for a few downpours or a thunderstorm though the bulk of any activity will be near the coast and lift up into Southern New Jersey and possibly Long Island. Inland areas will likely not see much if any activity from this. Lows will be in the mid 60s to around 70.
Sunday is going to be a day of variable conditions. Clouds will be around Sunday morning but areas from Southern Pennsylvania and Southern New Jersey southward will break into sunshine faster than areas to the Northeast across Northern New Jersey to Southern New England and Long Island. This will impact temperatures. Sunnier areas to the south will see temperatures reach the upper 80s or even 90 degrees where cloud covered areas that see less sun will be in the upper 70s and lower 80s.
The week ahead will be very warm to hot and humid and we don't have any cold fronts to deal with until late Friday when one approaches from the northwest. Monday we will see sunshine. The coast will deal with a wind off the ocean where temperatures will be lower but inland highs will be in the upper 80s to around 90 degrees. The chance for a pop up downpour or thunderstorm is very low to near zero in most places.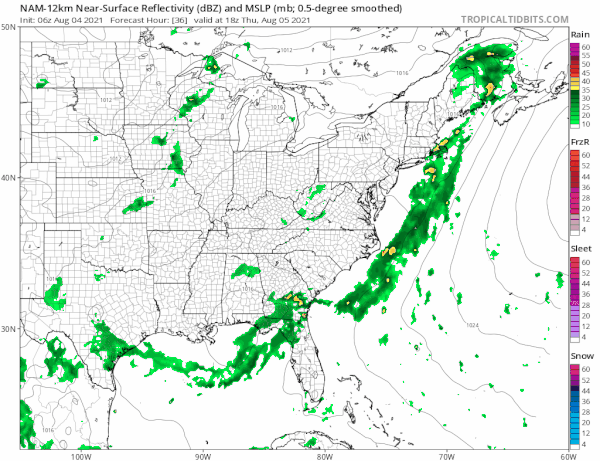 Starting Tuesday we will throw in the chance for afternoon and evening thunderstorms but the bulk of those will be mostly inland. The days from Tuesday to Thursday will be pretty much the same. They will be very warm to hot and humid. Sunshine will take most area temperatures in the upper 80s and lower 90s. Temperatures will be cooler along shore locations. Late Friday the cold front could trigger a line of thunderstorms as it moves through. That could be the one day this week where severe weather risk will be on the table. This should be followed by a drier air mass for next weekend that should bring some humidity relief with lower dew points and temperatures back into the 80s for highs.

Please note that with regards to any severe weather,  tropical storms, or hurricanes, should a storm be threatening, please consult your local National Weather Service office or your local government officials about what action you should be taking to protect life and property.