Warm Humid Friday Showers Thunder Into Saturday Morning
Low Humidity Sunshine Sunday

Another weekend is upon us and it starts off with a very warm and humid getaway Friday. A cold front is approaching us from the Great Lakes and Ohio Valley but it is moving slowly eastward. Other than an isolated shower or thunderstorm today, for the vast majority it is a rain free Friday.
Dew points will be rising today to between 65 and 70 which will make for a very uncomfortbale day. Highs will reach the mid to upper 80s with cooler 70s right along the immediate coast. Look for sunshine for much of the day with just a few clouds occasionally coming into the mix.
SATELLITE

WEATHER RADAR

During tonight as the cold front draws closer we will see some showers and perhaps a thunderstorm or two in the mix but we do not expect severe weather here. The front being slower means that showers will be around Saturday morning mainly from NYC southward. A weak wave develops on the front which pushes the boundary further south as the day wears on.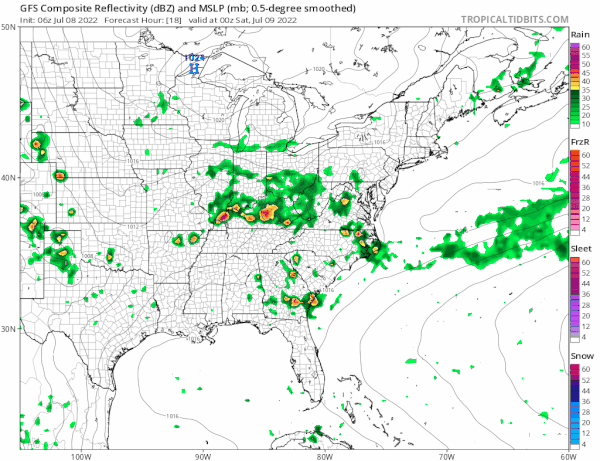 As we move through the morning the showers will shift southeast and offshore and weather conditions should improve during the afternoon with decreasing clouds and increasing sun from north to south. Temperatures Saturday are going to be a bit upside down with warmer temperatures in the low 80s north of NYC but only middle 70s to the south where clouds will linger into the afternoon cutting down on heating.
Nice dry air will move southward on north to northeast winds as skies clear out Saturday night with lows in the mid 50s inland and lower 60s along the coast with lowering humidity. Sunday will be a nice sunny pleasant day with low humidity and highs in the upper 70s and lower 80s. Sunday will be the better of the two weekend days. Monday remains dry with reasonable humidity and sunshine. Highs Monday will reach the middle 80s in most places.
In this wash rinse repeat pattern we have another cold front pushing east Tuesday so Tuesday becomes the hot humid day with highs reaching the upper 80s to near or just over 90 degrees in some places. The front won't move through until later Wednesday. This front might produce a scatttered shower or thunderstorm inland late Tuesday and perhaps a slightly higher chance for a shower or thunderstorm Wednesday. Highs Wednesday will be in the upper 80s to near 90. This will be followed by anothre dry and slightly cooler air mass for Thursday and Friday.
Please note that with regards to any severe weather,  tropical storms, or hurricanes, should a storm be threatening, please consult your local National Weather Service office or your local government officials about what action you should be taking to protect life and property.