Warm Front Going By Heavy Rains Late Today Tonight Flood Watch Wind Advisory NJ Westward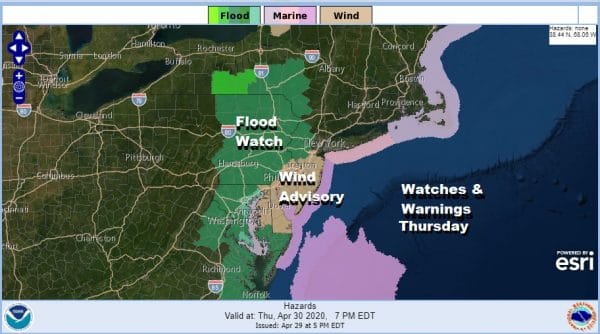 Flood Watches and Wind Advisories continue for much of New Jersey but for now at least do not include the areas from NYC north and east. This doesn't mean we won't see heavy rains in those areas or gusty winds. We will however the thresholds for flooding are lower to the west and hence the flood watches. The strongest winds will be south of NYC although we could see winds close to wind advisory criteria in other areas. Bear this in mind as you make decisions on how you will handle today.
A warm front moving northward brought some heavy rains this morning from NYC north and east and that area continues to move northward. The main thrust of rain is to the west and that is with the crawling slow moving cold front that is moving or perhaps walking across Pennsylvania.
SATELLITE

REGIONAL RADAR

Watching the radar you can see the issue here. There is very little eastward progress of the front as the heavy rain continues to fall in Western Pennsylvania and southward through Virginia. This buys some time before the heavy rains reach Eastern Pennsylvania and points east but it will get here during the afternoon west of NYC and later this evening to the east.
LOCAL RADAR NEW YORK CITY
LOCAL RADAR PHILADELPHIA

Overnight it rains, heavy at times with perhaps a rumble or two of thunder. Then the front creeps offshore and Friday we see leftover clouds with highs into the 60s. Another scattered shower or thunderstorm is possible in the afternoon as the cold upper trough driving all this swings east and moves slowly offshore.
We have been guardedly optimistic about the weekend and at this point I think we can get more optimistic. Winds will turn to the northwest, drier air should start to come in later Friday night and I think Saturday should be no worse than partly sunny with highs reaching the 60s just about everywhere.
Sunday could turn out to be warm with highs reaching into the 70s in many areas provided we get enough sun and the next cold front due Sunday night keeps showers and thunderstorms out of the aera until late in the day or during Sunday night. It is a bit of a more difficult call here but we will lean optimistic at least for much of the daytime.
MANY THANKS TO TROPICAL TIDBITS FOR THE USE OF MAPS
Please note that with regards to any severe weather,  tropical storms, or hurricanes, should a storm be threatening, please consult your local National Weather Service office or your local government officials about what action you should be taking to protect life and property.