Warm But Not Overly Humid Weekend Hot Weather Next Week

Our weekend is underway and while we have another very warm day ahead with highs in the mid to upper 80s, we are seeing a nice break in the humidity with dew points settling in the 50s. The satellite shows much of the area from Eastern Pennsylvania to Southern New England under mostly sunny skies and that should remain the case for the rest of the day. No showers or thunderstorms are forecast for today and for Sunday as well.
SATELLITE

WEATHER RADAR

Tonight will be a mostly clear night. Lows will be around 70 in warmer urban locations while inland lows will be in the 60s and coolest spots well inland will drop to the upper 50s. Sunday sees the dry air mass slide out to the east. Dew points will start to rise but it should still be reasonably comfortable. Sunshine is forecast and highs will again reach the mid to upper 80s. Once again no showers or thunderstorms are forecast.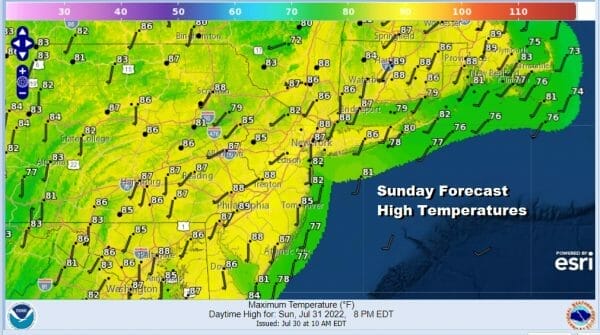 Sunday night into Monday morning a warm front with a weak wave will move through and there could be a few showers as it goes by. Not everyone will see these showers. Then we turn warm and humid Monday with clouds giving way to some sunshine. Highs will be in the low to mid 80s. The south wind will help to keep temperatures.
Those winds will turn more westerly Tuesday and with sunshine ahead of a weather front, highs will reach into the lower 90s. Late in the day there could be a shower or thunderstorm but the upper air support and cold front are underwhelming strengthwise.
Wednesday brings a hot day but the humidity will be a little lower. Thursday and Friday remain the two hottest days for this week as highs could reach the mid to upper 90s. Another front arrives Friday and there could be a thunderstorm risk with this frontal system though that will depend on the timing. The dry conditions in the Northeast and Northern Mid Atlantic will not be aleivated by these systems. Most of you may not see rain at all for the next 7 days.
Please note that with regards to any severe weather,  tropical storms, or hurricanes, should a storm be threatening, please consult your local National Weather Service office or your local government officials about what action you should be taking to protect life and property.