VETERANS DAY SUNSHINE GIVES WAY TO CLOUDS
CHILLY RAIN TONIGHT INTO TUESDAY
ANOTHER STORM LATE IN THE WEEK, INTERIOR SNOW/SLEET
We observe Veterans Day under dry weather and sunshine at least at the start. It was a very cold morning for sure as just about everyone was down below freezing with the exception of the warmest urban locations. 20s were actually quite common thanks to clear skies and light winds overnight.
Clouds from the next storm system that is now impacting the Western Gulf and Southern Plains with rain and snow will be moving northeastward and we should start seeing clouds arrive as we move through this afternoon and into this evening. Rain should hold off until after sunset. Temperatures this afternoon will reach the upper 40s to lower 50s.
EASTERN SATELLITE

REGIONAL RADAR

Rain starts to advance northward tonight and it overspreads the area between sunset and midnight. The rain will be heavy at times during the Tuesday morning commute in most areas but it will be ending from south to north fairly quickly during the morning hours.
Weather conditions will start to improve during the afternoon on Tuesday. Temperatures Tuesday could reach into the 50s before colder air moves in Tuesday night into Wednesday. Wednesday looks dry with sunshine as we have at least a day in between storm systems. Wednesday's highs will be in the 40s. The next storm system will be heading up the East Coast for Thursday and Friday. A cold high builds to the north and we are trying to figure out how much cold air will be bleeding southward.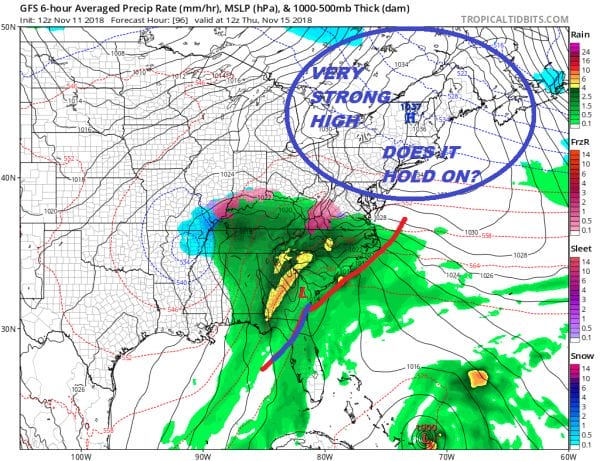 We will cloud up on Thursday with rain developing later in the day Thursday. Areas inland especially with elevation could see some sleet or wet snow mixing in as the low move northeastward. This could be the first significant snow event for the interior Northeast. We also could see some snow and ice for the mountains of Western Virginia into Western North Carolina with this.  and it is quite possible that we could at least see the first flakes/ice pellets along the coast from Central New jersey to Southern New England.
If this were a month from now, we would likely be seeing a significant snow and icing event across the interior Middle Atlantic & Northeast. Today's run of weather models should be interesting as to how it handles that high to the north. Once all this is done we should see weather conditions improve over this coming weekend.
SUBSCRIBE TO PATREON FOR A WEATHER EXPERIENCE FREE OF ADS, EXCLUSIVE VIDEOS FOR MEMBERS ONLY AND MUCH MORE…STARTS AT $2 A MONTH..MESSAGE ME AT ANY TIME

MANY THANKS TO

TROPICAL TIDBITS

FOR THE USE OF MAPS
Please note that with regards to any tropical storms or hurricanes, should a storm be threatening, please consult your local National Weather Service office or your local government officials about what action you should be taking to protect life and property.
LATEST JOESTRADAMUS ON THE LONG RANGE