Very Warm Saturday Hot Sunday Watch For Late Thunderstorms Week Ahead Outlook

Weather in 5/Joe & Joe Weather Show Latest Podcast
Very Warm Saturday Hot Sunday Watch For Late Thunderstorms Week Ahead Outlook
The weekend is here and the launching pad was set this morning when lows were in the 50s and 60s across much of the area. Other than some patchy clouds we are set for a hot May afternoon of sunshine. Highs today will reach the upper 80s to around or just over 90 degrees in many areas.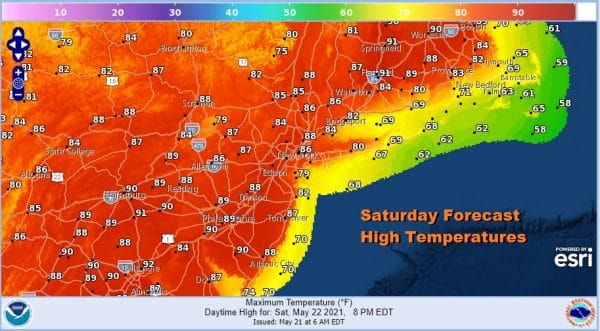 Winds are backing to the west and northwest and that means that coastal areas which have been cooler the last 2 days will warm up today as highs even along the shore areas should reach the upper 70s and lower 80s before any sea breeze takes hold. There is a slight chance for an isolated shower or thunderstorm inland this afternoon or evening. The chances of it happening are very low.
SATELLITE

A weak upper trough moves through tonight and that sets up the hottest day of the spring so far for Sunday. Northwest winds and sunshine will take highs to the upper 80s and lower 90s in just about all areas. Even the beaches will see temperatures in the 80s with the offshore wind.
Late in the day a cold front moves through and that may trigger a shower or thunderstorm. The Storm Prediction Center has a marginal risk for severe weather for New England, the Hudson Valley, Northeast Pennsylvania and a small portion of Northwest New Jersey. I think thunderstorms are going to be scattered in nature and it will be another set up where not everyone sees one.
Much cooler air moves in Monday as the cold front pushes southward into the Carolinas. It will be a short lived shot of cool air as winds will turn southwest later Monday into Tuesday and a warm front goes by to our north.  We will see sunshine give way to arriving clouds with highs Monday just into the 70s.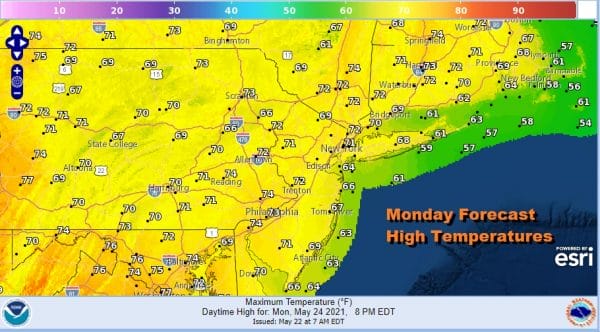 Tuesday will be a transition day as hot air will try to arrive but we will likely have clouds around especially from NYC north and east where highs will be in the 70s. South of the warm front look for partly sunny skies with highs reaching the mid to upper 80s and that covers areas basically south and west of NYC. Wednesday will be a very hot day indeed with a west wind, sunshine, and a cold front approaching late in the day. We could easily see highs of 90 to 95 Wednesday.
A front triggers a shower or thunderstorm late in the day Wednesday. Another front brings another chance for thunderstorms late Thursday and then we transition into the Memorial Day Holiday weekend. This is usually the weekend where if you are going to have issues, you lose at least 1 day to clouds and some rain. This will probably play out along those lines though which day is lost remains to be seen at this point.

MANY THANKS TO TROPICAL TIDBITS FOR THE USE OF MAPS
Please note that with regards to any severe weather,  tropical storms, or hurricanes, should a storm be threatening, please consult your local National Weather Service office or your local government officials about what action you should be taking to protect life and property.