Very Warm Humid Scattered Thunderstorms Continue Through Saturday
Our summery weather pattern continues today with some sunshine very warm & humid conditions. We continue to hold to the basic them that for much of the time for the rest of this week it will be rain free. We are seeing some broken clouds in a narrow band from just offshore northwest through Pennsylvania back to the Great Lakes. These are weak disturbances moving along in the west northwest flow in the upper atmosphere. Fortunately those disturbances are weak so that the thunderstorm impacts will be minimal.
SATELLITE

REGIONAL RADAR

We are seeing some passing showers on the regional and local radar this morning. They are widely scattered and moving east southeastward. If you are in their path you could experience a brief downpour or a thunderstorm. Otherwise today it is a mix of sun and clouds with highs reaching the mid 80s to near 90.
LOCAL RADAR NEW YORK CITY
LOCAL RADAR PHILADELPHIA

Other than some scattered thunderstorms this evening, tonight will be warm and humid with lows in the mid 60s to lower 70s. Thursday is the 4th of July and the weather will cooperate from start to finish. We will be in one of those points in between weak disturbances so expect some sunshine, very warm & humid conditions. I think the chance for scattered thunderstorms on Thursday is minimal and probably only in areas well inland in Pennsylvania. Highs Thursday will be in the mid 80s to some lower 90s.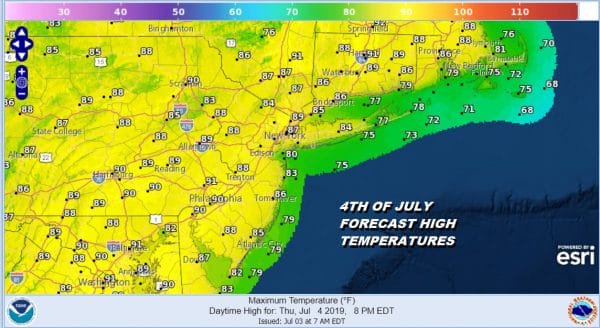 For any fireworks shows tomorrow night we don't expect any issues other than being warm and humid. Friday it is wash rinse repeat with very warm to borderline hot conditions with sunshine. Friday affords a better chance for thunderstorms late in the day. Highs will be in the 80s to near 90. This is due to an approaching weather front that will be moving through on Saturday.
Saturday will be the last day of this stretch of very warm humid conditions as this weather front will be moving through Saturday evening with a very good chance for thunderstorms and some of those could be strong. Much of the day we will see a mix of sun and clouds until thunderstorms start developing ahead of the cold front. The front will move offshore and could temporarily stall to our south as a second wave develops. This might cause clouds to linger Sunday morning before drier air starts coming in later Sunday afternoon. Clouds will give way to some sunshine Sunday from north to south with highs in the low to mid 80s.
Dry air with low dew points will settle in for the start of next week. As long as the wave to the south moves offshore east northeast, expect a fair amount of sunshine Monday into Tuesday with highs both days in a range of 80 to 85 with comfortable humidity. Long range we continue to see a rather strong northwest jet out of Canada flowing into the northeast. This brings fronts through every couple of days which cuts heat and humidity off at the pass. We will probably see another shot of dry cool air later next week to follow the early in the week air mass. This keeps thunderstorm threats to a minimum as well.
MANY THANKS TO

TROPICAL TIDBITS

FOR THE USE OF MAPS
Please note that with regards to any tropical storms or hurricanes, should a storm be threatening, please consult your local National Weather Service office or your local government officials about what action you should be taking to protect life and property.