Very Cold Today But Warmer Wednesday
Snow Chances Rising Thursday Night Friday

Weather in 5/Joe & Joe Weather Show Latest Podcast
Very Cold Today But Warmer Wednesday
Snow Chances Rising Thursday Night Friday
Yesterday's Mid Atlantic snow storm also functioned as a mechanism to bring down the coldest air of the winter season so far and we sit this morning with temperatures in the teens for lows and in areas where snow fall was the heaviest like in Southern New Jersey, lows were in the single digits. The storm has moved away to the east and we will have sunshine today. Temperatures will recover somewhat this afternoon as highs reach the middle 30s in most areas. Radars are nice and quiet and no precipitation is forecast today.
SATELLITE

WEATHER RADAR

Tonight we are looking at warmer air coming in from the west as low pressure moves across the Great Lakes so temperatures will not be going anywhere tonight. Clouds will be increasing and temperatures hold in the 30s. Late tonight a narrow band of rain showers develops and this will move through during Wednesday, mostly impacting coastal areas and Southern New England and not so much areas to the west.
Wednesday is going to be a warmer day with highs reaching the mid and upper 40s with clouds and probably some breaks of sunshine. We will have a cold front pass and this will bring in colder air for Thursday. It also will set the table for the next storm system on Friday. First things first though is Thursday which will be chilly with sunshine giving way to some late day arriving clouds. High will be in the 30s to around 40.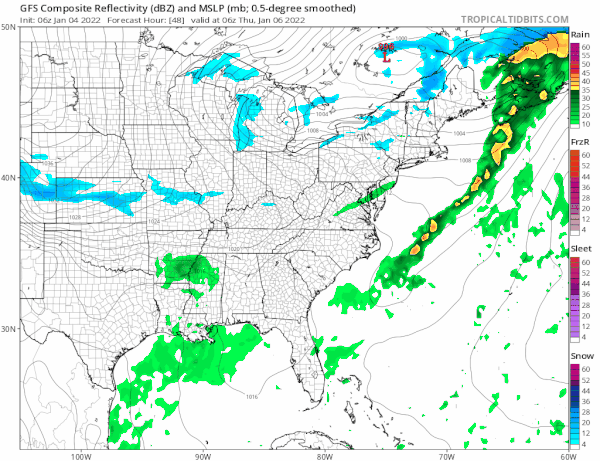 Low pressure develops Thursday night in the Southern Appalachians and moves northeastward on Friday passing off the Delaware coast and south of Long Island. We have been watching the models for days regarding this noting that the GFS has the storm late last week, lost it, and now has it again which is typical for this model. The European and others seem to be on the same page with the models showing this storm bearing varying degrees of strength. Eventually this storm will deepen as it passes to the northeast and that will bring down colder air for the weekend. This storm will also be different than yesterday's for the Northeast because of a more favorable upper flow. Right now I would guess this could a system that produces several to maybe six inches but this is me speculating off the top of my head at the moment.
It will all depend on the strength of the upper trough. Once this storm goes by we get a quick shot of cold air to start the weekend. Then a stronger trough brings an arctic front on Sunday with rain showers late in the day and then what looks like the coldest air of the season so far coming in for early next week.

Please note that with regards to any severe weather,  tropical storms, or hurricanes, should a storm be threatening, please consult your local National Weather Service office or your local government officials about what action you should be taking to protect life and property.