Very Cold Nights And Days Through Saturday Chance Rain Snow Shower Sunday

Weather in 5/Joe & Joe Weather Show Latest Podcast
Very Cold Nights And Days Through Saturday Chance Rain Snow Shower Sunday
In the wake of the record breaking major winter storm from yesterday into this morning we are left with a very cold air mass. The Canadian high that kept the cold air in for yesterday's storm is still over the Eastern US and Eastern Canada and cold air is being funneled southward. That leaves us with a very cold night ahead with clear skies.
We will be waking up Friday morning to temperatures in the teens to lower 20s. There will still be a busy wind overnight which will make temperatures feel at least 10 degrees colder. The satellite picture shows our storm to the east and south of Cape Cod. We should have no issues tonight. Some areas saw leftover snow showers today but they are now all gone.
SATELLITE

Friday should see a return to sunshine but unfortunately it will still be cold and temperatures are going to struggle all day. Most area highs will be just in the lower 30s. However the winds should begin to ease as the day wears on.
Friday night will be another cold night with clear skies though high pressure will be moving overhead leading to calmer winds. With a deep snow cover in many areas this will impact morning lows inland. By Saturday morning most lows will be in the teens. Inland areas and in rural areas we could see some single digit lows.

The weekend promises to start off with sunshine for Saturday. Temperatures should be able to get above the freezing mark in most places though barely. Most highs will be in the low to mid 30s. Then on Sunday we have an approaching cold front. Normally we might warm up nicely ahead of it but this front is not being preceded by a warm southwest flow. Highs Sunday should reach the upper 30s and lower 40s.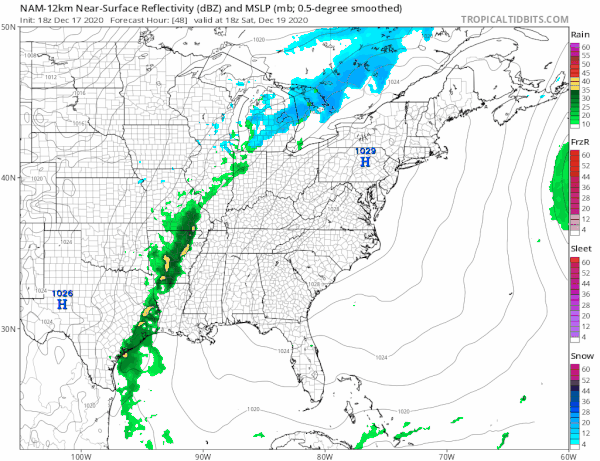 The cold front is not especially strong and it could produce a few rain and snow showers as the front passes. Highs will be in the upper 30s and lower 40s. There is some question about the front stalling as a an upper trough picks up a southern stream system and tries to edge it close to the coast Sunday night and Monday. The GFS is the furthest west with this system and phases the trough more than the others. We will allow for the possibility of a period of rain on Monday, mostly along coastal areas from New Jersey to Southern New England. If the system is flatter than Monday will wind up being dry with a mix of sun and clouds with highs upper 30s and lower 40s. The air behind this front and possible wave is not especially cold so we will see temperatures near or slightly above normal Tuesday and Wednesday. Look for some sunshine both days with highs in the upper 30s to some middle 40s for both days. We may have to adjust these temperatures lower for Tuesday if the wave for Monday becomes more important.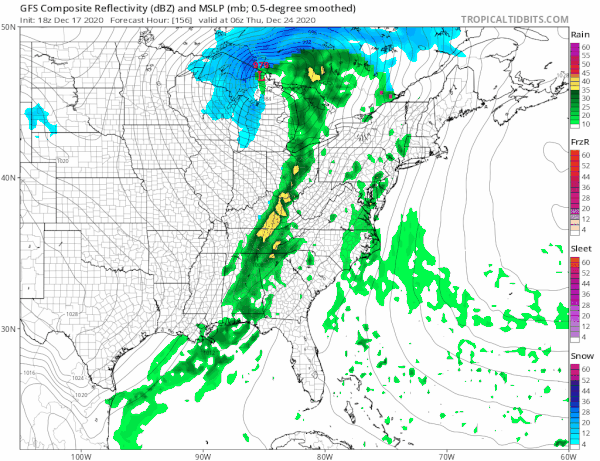 Attention turns to the west for Christmas Eve. Low pressure will be coming out of the Plains and heading to the Great Lakes. This creates a stronger southwest flow ahead of the front and it sets us up for a period of showers later Thursday into Thursday night. Behind the front there is a rather impressive shot of colder air that drops into the Eastern US for Friday and Saturday. Not all the models are going along with this idea.
i normally don't pay close attention to the Canadian model however last week it was the first model to sniff out the developing blocking pattern which led to our snow storm. This leads me to at least give it a second look in its long range. It brings a weaker front through Thursday night and builds the next high into Southeastern Canada. The front stalls and a wave develops in the Gulf States and then takes that wave up the East Coast as a developing storm the day after Christmas. The difference this time is that there is no blocking to hold that high in. It is far enough out in the long range for models to move chess pieces around. I usually say about the Canadian model that broken clocks are right twice a day. Well the first part of the day has past. Will it right the second time?
MANY THANKS TO TROPICAL TIDBITS FOR THE USE OF MAPS
Please note that with regards to any severe weather,  tropical storms, or hurricanes, should a storm be threatening, please consult your local National Weather Service office or your local government officials about what action you should be taking to protect life and property.