Very Cold Into Wednesday Ocean Storm Brings More Cold Into Weekend
Some Clarity On Another System Sunday Monday

Weather in 5/Joe & Joe Weather Show Latest Podcast
Very Cold Into Wednesday Ocean Storm Brings More Cold Into Weekend
Some Clarity On Another System Sunday Monday
It is very cold across the entire region this morning and to top it off an arctic boundary moved through overnight producing some snow showers and snow squalls that whitened the ground up in spots. It is going to be a very cold day indeed. Whatever sunshine we get will be completely ineffective. A gusty wind will make it feel about 10 degrees colder than whatever the thermometer reads. There could be some scattered snow showers around in the cold air. Temperatures today will have a difficult time getting out of the teens from Northeastern Pennsylvania to NYC to Long Island and Southern New England and points northward. Upper teens and lower 20s will be the highs from Southern Pennsylvania, Southern New Jersey and points southward.
SATELLITE

WEATHER RADAR

We can see a few streamers on the radar of snow showers scattered around and some areas close to the ocean could see a little bit of ocean effect snow in the mix today. Otherwise for most the radars will be quiet. Skies tonight will be mostly clear as the core of the cold air settles overhead. As long as there is a little bit of a breeze, temperatures will stay in relatively tight ranges.

Wednesday morning lows will be in the single digits and teens. Then we look for temperatures to begin to bounce higher on Wednesday. The core of the cold air will be moving out quickly and the wind will turn to the west. Sunshine will be more effective and that should take highs to the low and middle 30s in most places by Wednesday afternoon.
We are going to take temperatures a little higher on Thursday with some sunshine. Highs will reach the upper 30s and lower 40s. The next front to the northwest approaches and we wait for an ocean storm to develop east of Florida and move northeast. That storm will intensify as it heads into Nova Scotia and Newfoundland but it will also be responsible for dragging low level cold air southward later Friday and especially for Friday night and into Saturday.
Friday's highs will be in the 30s with clouds and some sun, and then we will head to the teens and single digits Saturday morning. Saturday will be a very cold day with sunshine with highs just in the 20s. This cold high sets up the next storm system that we have been trying to get some clarity on. The question has centered around how much room will there be as there are three weather systems very close together and there is only so much room in between. We also need see if the storm to the east gets into a position where the next storm moving across the Deep South Saturday can turn northward and climb up the East Coast on Sunday, or move out to the east and offshore.
2 overnight runs of the GFS say that the Atlantic Storm in Newfoundland does get out of the way fast enough and then the southern system combines with a follow up system right behind it to turn northward up the coast, probably for later Sunday night and Monday. However other models and the ensembles are not quite there yet but we will give them at least a day or two to either play catch up or show us that the GFS is just wrong. Ultimately the overnight models are point to the risks ahead which we have known for days. Perhaps the GFS is leading the way here to something substantial but we are still 6 days away.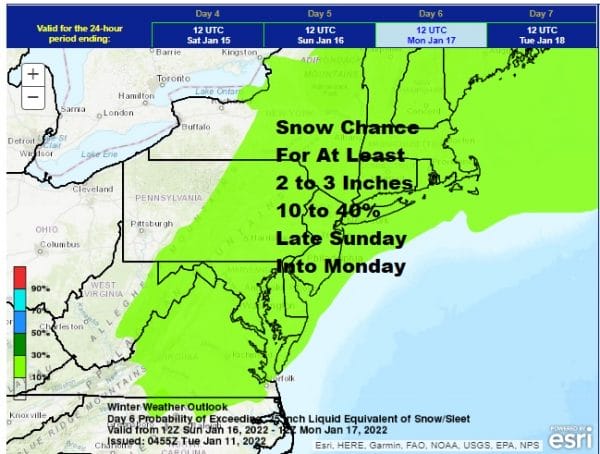 Finally we leave you with the folks at the Weather Prediction Center which have been showing snow risk for the last several days in spite of the fact that the models have not been overly bullish other than suggesting some possibility. This forecast was done before the overnight models were done so it will be interesting to see where they go with this in the update later today.

Please note that with regards to any severe weather,  tropical storms, or hurricanes, should a storm be threatening, please consult your local National Weather Service office or your local government officials about what action you should be taking to protect life and property.