Up State NY Snow Accumulation Forecast For Saturday
We begin the next series of weather changes with showers moving through the area between now and the evening hours. It isn't going to amount to a lot of rain as most rainfall forecast amounts are under a quarter of an inch. You can see on the satellite loop how well defined the storm system over the northern Great Lakes is as it moves northeast. You can also see how there are basically 2 separate areas with the bulk of the energy so far north and west that all we will be getting out of this will be just a few showers.
Radar shows the showers moving northeastward. This is what is left of yesterday's strong thunderstorm activity which moved through parts of the upper midwest. Some heavier showers are showing up in the yellows on the radar but again these seem to be more nuisance than anything else.
Once the cold front moves through colder air will arrive with the coldest air Friday night into Saturday night. Temperatures through the weekend will be close to average when you do all the math. Saturday many areas will struggle to get out of the 40s. Sunday we should start to see a little rebound with highs back into the 50s. Sky wise it will be no worse than a mix of sun and clouds Friday and Saturday and mostly sunny skies for Sunday.
For you snowlovers the late effect machine will be turned on Friday night and Saturday as a cold upper trough moves across upstate New York. There could be a few inches in some places east of Lake Ontario to much of Northern New York but this is in the land of cheap thrill small potatoes at this stage of the game. Still for snow lovers a few flakes flying is better than no flakes flying. Whatever falls will melt so skiers will have to wait awhile for the long term pattern change to start fixing things up even in the mountains.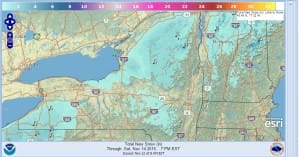 Longer term Monday into Wednesday looks dry and warmer each day though it will depend on wind and clouds. Temperatures early next week will be getting back into the 60s.
Here is the latest forecast from FiOS1 News Meteorologist Brian Fitzgerald

JETSTREAM VIEW FOR SHORT RANGE (NEXT 6 DAYS)
SHORT TERM FORECAST FOR THURSDAY THROUGH SUNDAY
JOESTRADAMUS LONG TERM FORECAST
JOESTRADAMUS WINTER FORECAST 2015-2016
JOESTRADAMUS EL NINO DEVELOPMENTS