DRY THURSDAY WITH SLIGHTLY COOLER TEMPERATURES
FIRST OF TWO STORM SYSTEMS AHEAD OF US NEXT SEVEN DAYS
We have quiet cooler weather conditions overnight as skies are mostly clear across much of the region. We are headed down into the mid 30s inland where skies are clear and winds are light. Warmer urban centers will bottom in the mid 40s. We are setting up for a nice day Thursday with sunshine and highs in the low to mid 50s. However two storm systems like ahead of us over the next 7 days. The first one will arrive on Friday. In the meantime there are no radar issues for tonight into Friday morning.
EASTERN SATELLITE

REGIONAL RADAR

Friday storm system number 1 arrives with cloudy skies and a developing onshore flow. That means raw and rainy conditions develop Low pressure will be heading well to the west of us but a secondary low will develop along the Delaware coast and move northward. This looks like it could be another producer of 3/4 inch to an inch an a half of rain late Friday and Friday night.
Weather conditions improve over the weekend but the first of 2 cold shots will move in. The bulk of the cold air from the high to the west drops to our west but some of it does bleed in Saturday into Monday. We should see some sunshine Saturday and Sunday but temperatures will be just in the 50s Saturday and only in the 40s on Sunday. Then as a second even colder shot of air moves southward another storm will develop and move up the East Coast Monday night and Tuesday.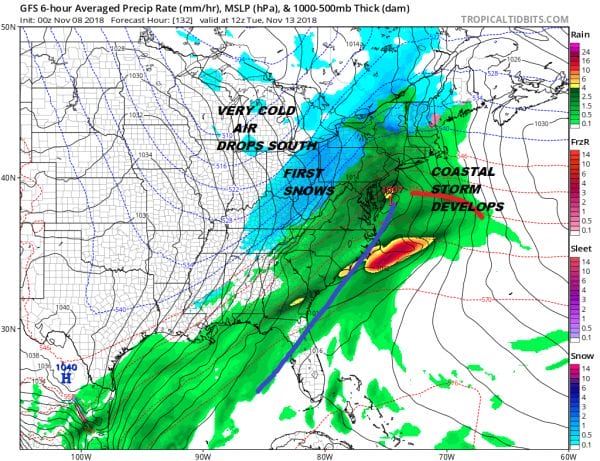 If this were a month from now snow would be front and center in all of this but it just isn't cold enough here yet. Bear in mind that since 1950 it has only snowed an inch or more in NYC 6 times in the month of November. That is a rate of 1 ever 10 years or so. You need a perfect set up for it to happen. Also there is some weather model debate on the track of this low as yesterday's European took the surface low to the west into Western NY.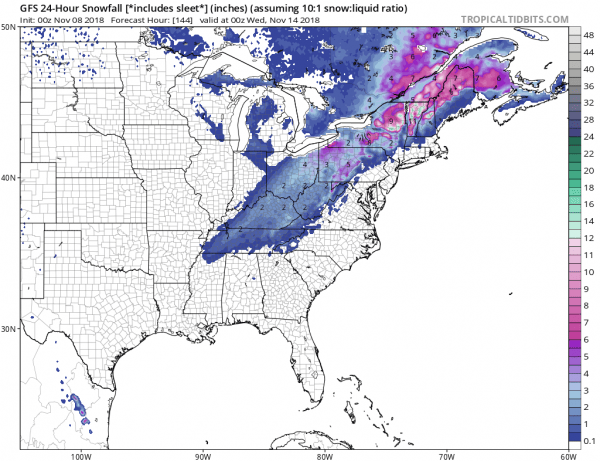 Either way it does seem that areas in the interior Northeast could see their first accumulating snows out of this. It also seems likely that Wednesday morning of next week we will see the coldest air of the season so far with many areas down in the 20s to low 30s.
Wednesday's highs will be just in the 40s and then another cold night sets up for next Thursday morning with lows in the 20s to lower 30s. Temperatures will moderate somewhat after that but it may be a slow climb up back to average late next week.
SUBSCRIBE TO PATREON FOR A WEATHER EXPERIENCE FREE OF ADS, EXCLUSIVE VIDEOS FOR MEMBERS ONLY AND MUCH MORE…STARTS AT $2 A MONTH..MESSAGE ME AT ANY TIME

MANY THANKS TO

TROPICAL TIDBITS

FOR THE USE OF MAPS
Please note that with regards to any tropical storms or hurricanes, should a storm be threatening, please consult your local National Weather Service office or your local government officials about what action you should be taking to protect life and property.
LATEST JOESTRADAMUS ON THE LONG RANGE